Syfy Orders Pilot For High Moon Based On John Christopher's The Lotus Caves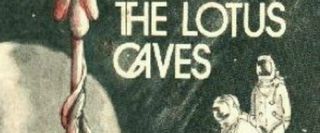 Bryan Fuller already has Hannibal, an adaptation and prequel to Thomas Harris' "Red Dragon," and Mockingbird Lane, a reboot of The Munsters, for NBC and now Syfy has finally put out a pilot order for High Moon. The 90-minute episode is a long time coming since a potential adaptation of John Christopher's "The Lotus Caves," from Fuller and his Pushing Daisies writer Jim Danger Gray, has been in the works at the science fiction network for over two years.
Deadline reports that with Fuller (who celebrated in his usual style), Gray and, now, Robert Halmi Sr. executive producing the project, the pilot for High Moon will get its long awaited turn in front of cameras. Canadian-based Reunion Pictures is also producing the adaptation with Halmi Sr., who previously work on Syfy's Tin Man, Alice and Neverland, handling distribution outside of Canada.
The pilot for High Moon was written by Gray and, like I said, is an adaption of Christopher's sci-fi novel "The Lotus Caves." The young adult book from 1969 is set in 2068 and tells of a mining settlement on the Moon called 'The Bubble' where exploration outside its boundaries are forbidden. When a couple of of teenage boys make an alien discovery, the once heavily controlled colony erupts into chaos as battle to monopolize and exploit its 'powerful secrets' ensues. Sounds a bit like Lost in space. Wait. Not Lost in Space but ABCs… you get it. I wonder if that title is a play on High Noon and we're in for a new space western?
Your Daily Blend of Entertainment News
Thank you for signing up to CinemaBlend. You will receive a verification email shortly.
There was a problem. Please refresh the page and try again.