TNT's Perception Renewed For Season 2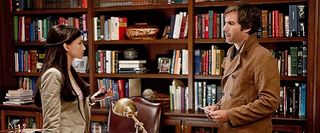 TNT's new series Perception has already earned itself a place among basic cable's top-rated series, and a place in the channel's lineup for a second season. It's been renewed with a 13-episode order; not really a surprise considering the strong ratings and the draw of Emmy-winner Eric McCormack in the lead role.
Perception focuses on a schizophrenic neuroscience professor, Dr. Daniel Pierce, played by Will & Grace's Eric McCormack. He's described as an eccentric who is called in by the FBI when they have a complex case on their hands. Rachel Leigh Cook also stars as a former student of Pierce who is now an FBI agent and often requests his assistance in a crime-solving capacity. Also on board the cast are Arjay Smith, Kelly Rowan, and LeVar Burton, who plays the Dean of the University where Dr. Pierce works. It's a strong cast that really seems to be pulling it together for TNT.
Currently in its first season, the crime-solving drama had the third biggest cable debut of the year when it hit the air on July 9, and has been averaging 7 million viewers since. In a television world nearly overrun by procedurals and detective dramas, that's a pretty impressive way to start your run, although it being summer does tend to help somewhat. TNT made the obvious move in locking the series down for a second season without waiting for Season 1 to wrap. It's currently airing Monday nights at 10pm, and is expected to return for a new season to air in 2013.
Your Daily Blend of Entertainment News
Thank you for signing up to CinemaBlend. You will receive a verification email shortly.
There was a problem. Please refresh the page and try again.