TV Will Air Its First Live Brain Surgery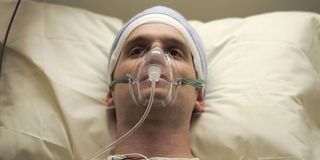 This month, TV is boasting a slew of series returns, as well as high-profile new shows like CBS' upcoming drama Supergirl. There's even a reality TV program coming over at A&E that will bury a few people live. But none of these may hold a candle to what Nat Geo has plans to do with some help from Mental Floss. Together, they will air a brain surgery for the first time live on television, which you can watch from the comfort of your own home.
Sure, Supergirl definitely has flashier and less gross-out appeal, but it's way less often that TV films an event in live time that could be quite as informative for viewers as the filming of a brain surgery. I know, learning is so sexy. The new project, called Brain Surgery Live with Mental Floss will team up with the popular brand Mental Floss to film a surgery live from the University Hospital's Case Medical Center located in Cleveland, Ohio. The surgery will follow an elective procedure called DBS surgery, which helps people suffering from Parkinson's disease.
The special is going to be hosted by Bryant Gumbel and will follow two handheld cameras as well as a robotic camera as surgery is performed on a wide-awake individual. A wide-awake patient means that the surgeons can be much more precise with the surgery, making sure to pinpoint the correct area of the brain. The special will air for two hours on the National Geographic Channel on October 25, 2015.
It's not the first surgery that TV has ever been covered, sure. There's always the infamous Tom Green cancer special to fall back on.
However, surgery is still an interesting topic that TV hasn't frequently explored outside of the confines of fictional fare like Grey's Anatomy.
Teaming up with Mental Floss for Brain Surgery Live should be a no brainer, pun intended. The special is yet another move in a series of interesting programming choices Nat Geo has made of late. The cabler already has Neil deGrasse Tyson in its lineup, thanks to a late night program called StarTalk. In addition Kevin Costner's special Billy The Kid: New Evidence should earn the channel some extra eyeballs. Plus the network has already found success with original scripted fare like Killing Lincoln and Killing Kennedy. Soon, the channel will be able to boast about brain surgery, too.
The National Geographic Channel's Brain Surgery Live! will air on Sunday, October 25 at 9 p.m. ET.
Reality TV fan with a pinch of Disney fairy dust thrown in. Theme park junkie. If you've created a rom-com I've probably watched it.
Your Daily Blend of Entertainment News
Thank you for signing up to CinemaBlend. You will receive a verification email shortly.
There was a problem. Please refresh the page and try again.