TV Clip: Meet The Cast Of The New 90210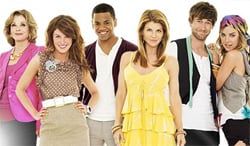 The new 90210 keeps on chugging along. Now that Rob Estes has signed on to complete the cast, the promos can begin. The CW recently released a video introducing us to the new students of Beverly Hills High and their families. Other than the actors talking about their roles, the clip is mainly a bunch of greased up body parts writhing around—perfect CW fare. Check out the video below:
I've had really mixed feelings about this show ever since I first heard about it a couple of months ago. Not having been a fan of the original, I didn't have either the "Yes! It's back!" or the "Oh no, they're going to ruin it!" reaction that the people who followed the adventures of Brandon, Brenda, and Kelly et al back in the day had. I was mainly psyched because Rob Thomas was the mastermind behind the whole thing. Unfortunately, he got busy with his other shows and took a less-active role, which really took away most of the appeal for me. But then, just when my interest was waning, they went and added Lucille freakin' Bluth (Jessica Walters) to the cast and I got excited all over again.
Now, having watched the preview, I'm simply in a state of confusion. It looks like it's going to be Gossip Girl on the West Coast. But isn't Gossip Girl just The O.C. on the East Coast? And since The O.C. already existed, wouldn't that make this the poor man's O.C.? But nobody on 90210 could possibly be as bad as an actress as Mischa Barton, right? On the other hand, none of them looks to be as adorable as Adam Brody, so I just don't know. What do you think? Will 90210 be enough to save The CW? Will you be tuning in this fall?
Your Daily Blend of Entertainment News
Your Daily Blend of Entertainment News
Thank you for signing up to CinemaBlend. You will receive a verification email shortly.
There was a problem. Please refresh the page and try again.