TV Recap: America's Best Dance Crew – Eighties Theme Challenge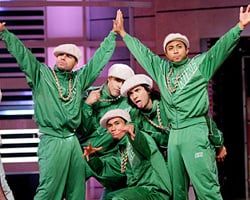 Pac-Man and Pretty in Pink. He-Man and hightop fades. Don't tell me you don't love the '80s! There's absolutely no shame in savoring the decadence and absurdity of the era – the fashions, the hairstyles, the slang (Totally!), the music, and the dance moves. I remember when I first learned to do the wop (1987) and the cabbage patch (about two years ago), and I can't wait to take a further trip down memory lane.
This week, the three remaining crews are performing twice in two separate mini challenges. For the Groove Step Challenge, the teams must build a routine using retro steps from popular dance videos. On top of that, they each have an additional physical challenge to accomplish.
Crew: Super Cr3w
Master Mix: "Bust A Move" by Young MC; "The Humpty Dance" by Digital Underground; "Word Up" by Cameo
For this challenge, Super Cr3w must perform their chosen '80s dance style with only four feet on the floor. They decide they want to do the Humpty Dance ("People say you look like MC Hammer on crack, Humpty!") and they accomplish this by creating two wobbly towers. Shane Sparks thinks they were "crazy" and was impressed by the one-handed hops one Cr3w member does on another's chest. Lil Mama also loved their amazing stunts and believes they truly lived up to their name. JC Chasez is happy to see them going all out and showing a bit of everything in their routine: choreography, creativity, and athleticism. It was "a great way to start the show."
Crew: SoReal Cru
Master Mix: "Poison" by Bell Biv Devoe; "Now That We Found Love" by Heavy D; "Every Little Step" by Bobby Brown
SoReal Cru's physical challenge is to start a chain reaction during their routine and they choose one of my personal favorite moves, the Kid 'n Play. Lil Mama expected more from the crew but still had fun watching them. JC enjoyed seeing all the old moves, especially the high-blast running man at the top of the performance, but saw some loose choreography from crew member Andrew. Shane thinks they performed moves well, but lost energy throughout the duration of the routine. I'm still searching for the chain reaction. Did they even do it?
Crew: Fanny Pak
Master Mix: "Lean On Me" by Club Nouveau; "New Jack Swing" by Wrecks-N-Effect feat. Teddy Riley; "Ice Ice Baby" by Vanilla Ice
The 1980s is the era that inspires Fanny Pak, so they're excited to get to work. In addition to dancing the Vanilla Ice, they must do so horizontally. Huh? I'm not sharp enough to know how that's supposed to work, but they pull it off. Flat on the floor, of course. Duh. JC declares Glenda the crew's "secret weapon" and "the most athletic female of the season" for her flips from previous routines, and her hand hops and scissor kicks this week. Yeah, that chick's bananas! Shane lays claim to the fact that he predicted them the show's winners at the start of the season and gets a bit misty-eyed seeing them in the top three. He loves and respects how passionate and entertaining they've been in every challenge all season long. Lil Mama found the routine exciting and the crew "so '80s." No kidding! Although she doesn't mention it, Mama should be happy they pulled something out of their packs (she was calling for them to do something like this during the Bring the Beat Challenge): pictures of their mommies ("Word to the Mutha!"). Nice shout-out.
Before they commence the second mini-challenge of the night, the crews' votes from last week are tallied. SoReal Cru moves on to the finale, and Super Cr3w and Fanny Pak must battle for survival. What? Didn't I see these two crews in the top two spots? What is going on, America?
For the Dance Movie Challenge, the crews are charged with updating and adding a fresh spin to scenes from '80s dance movies.
Crew: SoReal Cru
Movie: Breakin' (1984)
Great movie and great scene (Turbo sweeping the sidewalk) – they really lucked out with this one. Shane's also a big fan of the film and appreciates how they interpreted and updated the broom choreography. Despite them never falling into the bottom all season, I haven't been much of a fan of SoReal Cru. But even I loved the job they did with this routine. Lil Mama likes how they immersed themselves in character and gave an excellent performance, proving why they deserve to be in the top spot. The clever use of mirrors to create a manifold hand illusion impresses JC. Although he didn't like the solos much, he still thinks the routine was very clean.
Crew: Super Cr3w
Movie: Footloose (1984)
Really strange and unfortunate movie and song choice for this crew – they might be going home over this. There were some nice moments, like Do-Knock and RJ's assisted and butterfly flips. But I spent most of the routine with my face screwed up in confusion. Well, my opinion doesn't count, does it? Shane is proud of their performance: "Whatever happens tonight, you totally represented for b-boys and breakdancers." I love another of his lopsided compliments: he describes their execution as "always almost perfect." JC is puzzled by the results of voting and then follows Lil Mama's prior example of insulting a crew during another group's judging – he knows for a fact both bottom crews outdanced SoReal Cru, and I have to agree.
Crew: Fanny Pak
Movie: Flashdance (1983)
As usual, Fanny Pak does not disappoint. They paint a great picture every time they hit the stage and use props to a heavy advantage. With the audition scene from Flashdance as inspiration, they poke fun at ABDC and mimic the judges brilliantly – Phil's bowtie-sporting JC and Glenda's slap-happy Shane were especially hilarious! Lil Mama found it "an entertaining performance from beginning to end" that was creative, theatrical, and humorous. JC declares that there is no other crew more creative than Fanny Pak. He also respects their use of classical technique, something not achieved by the other crews in the competition.
JC says that this week's deliberation is the toughest decision they've had yet to make. Maybe that explains why they make THE WRONG ONE! That's it, I'm done! Fanny Pak, you've been robbed. Let me sit down, I'm having A.S.I.I.D. flashbacks…
Next Week: SoReal Cru and Super Cr3w go head-to-head, and this season's winner will be announced during the live finale August 21.
Your Daily Blend of Entertainment News
Thank you for signing up to CinemaBlend. You will receive a verification email shortly.
There was a problem. Please refresh the page and try again.