TV Recap: Army Wives - A Hero Returns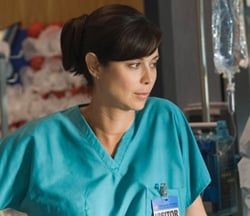 I'm a sympathy crier. Oftentimes if I see someone else really crying, I cry too. This happens on occasion when watching a TV show or movie. In those cases though, the actor crying has to really sell it in order for me to well up. Such was the case in tonight's episode of Army Wives, when Dan Lauria's character teared up during his best friend's funeral.
Before we get to that, let's talk about Denise. Denise, who's treading on dangerous water with her new friend Getti. While Denise and Getti are getting all flirty, talking bikes together and saving lives in the E.R., Frank is chatting up one of his buddies while enjoying some beverages in the hot desert sun. Frank's friend talks about how his marriage fell apart while he was overseas. His wife started to change and drift away from him and he lost her to another guy. Frank decides that the best course of action with Denise is to put her bike up for sale… without telling her. When some guy stops buy to check out the bike, Denise tells him it's not for sale. She then has a webcam conversation with Frank about the bike. He says he feels like she's changing and he can't keep up.
Denise decides to sell the bike, much to Getti's disappointment. She takes it out for one more spin and Getti finds her at this infamous pancake place. They both get called away by the hospital but when Denise finds she's out of gas, she ends up hitching a ride on the back of Getti's bike. That whole thing played out a bit too conveniently. I mean, what could be more sexy than Denise getting to wrap her arms around her dreamy doctor friend cruise off together? From the previews for next week, it looks like people spotted Denise riding on the back of the bike and the gossip is flying all over the post.
Meanwhile, the body of a fallen soldier named Ernie is found over in Vietnam. It turns out, his closest relative, his daughter, lives on post. Michael goes to talk to the woman but she says she never knew her father. He died before she was born and she has no interest in participating in the memorial services. After talking to Michael about it, Claudia Joy vows to find someone else who is close to him to be there at the funeral. She tracks down James (Dan Lauria), who was Ernie's best friend back when they enlisted. I'll always associate Lauria with his role as Kevin's dad in The Wonder Years.
James is very emotional when talking to Claudia Joy and Michael about his friend. He says Ernie didn't know he was going to be a dad until they were already over in Vietnam. After that he sent letters and pictures to his daughter's mother all the time. He loved his daughter even before she was born and unfortunately, didn't live to get to meet her.
Claudia Joy goes to talk to Ernie's daughter. She tells Claudia Joy that she hasn't even told her kids about her real father because she doesn't want them fearing that she might not return the next time she's deployed. Claudia Joy explains how important it is to all of the families of people who died at war and didn't return that she show up at the memorial service. This does the trick and the woman attends the services. She shares some tearful eye contact with James as they pass the folded flag and that's pretty much where I lost it. Lauria did a fantastic job of portraying a man who has clearly been living with survivor's guilt for the last few decades.
Finally, Trevor comes home and the doctors finish patching him up. Everyone says he's a hero for shooting that terrorist in the marketplace. Roxy's trying to make him feel better (a little hospital lovin' never hurt anyone, right?) but he's distracted. Finally, when they're home he explains to her that he doesn't like that people think he's a hero because he just reacted on instinct. He shot before he even saw the guy's gun and he feels like that could've been a mistake. Roxy assures him that he was brave for how he acted and he didn't shoot an innocent man so there's nothing to feel bad about. She adds that the fact that he does feel guilty for killing a terrorist makes her love him even more. This doesn't totally do the trick though and Trevor feels even guiltier when he's told that he's being recommended for the Silver Star and that he's going to be talking to the press about his heroism.
Pamela has Trevor on her radio show and he starts out by saying he's not a hero, he just did what he was trained to do. He then uses his time to talk about Ernie's memorial service. He goes on to discuss JPAC(Joint Prisoners of War Missing in Action Accounting Command), an organization that searches for American soldiers from past wars. I think it's cool that they do this on Army Wives from time to time. A quick google search revealed to me that JPAC is a real organization. It has to be unreal for the families of lost soldiers to find out that the body of their loved one has been found after who knows how many years.
The only other character arc in the episode that was addressed briefly was Joan meeting the man who is set to take over her job when she goes on maternity leave. Evan is a charming man who has already expressed an eagerness to climb the military ladder, despite never having seen combat. Joan is unnerved by this as she's just entering her second trimester. It seems like it's too soon to be dealing with her replacement. Roland tells Joan that mothers are the fiercest fighters when it comes to protecting what's theirs. This reassures her but I'm sure that this isn't the last we've heard of this issue.
Your Daily Blend of Entertainment News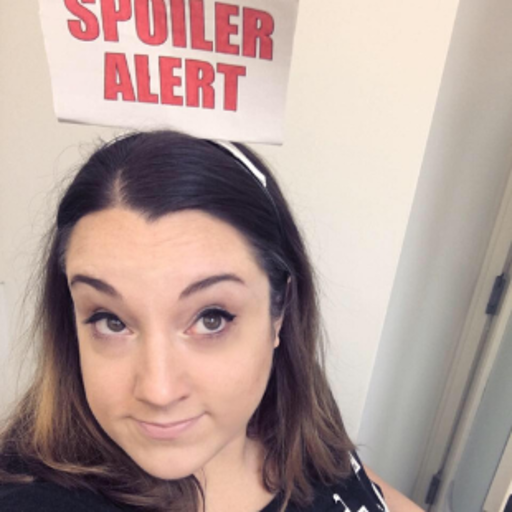 Assistant Managing Editor
Kelly joined CinemaBlend as a freelance TV news writer in 2006 and went on to serve as the site's TV Editor before moving over to other roles on the site. At present, she's an Assistant Managing Editor who spends much of her time brainstorming and editing feature content on the site.