TV Recap: Cashmere Mafia – Dog Eat Dog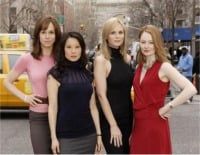 Mia is smitten. No, it's not with her 12-year-old brain surgeon boyfriend. She ends up ditching him after he falls asleep during a midnight booty call and because he doesn't think about her every second of the day. So instead she takes in a stray dog, which she falls in love with after it chews on her gold stiletto.
Zoe is not doing the unemployed thing very well at all. She starts learning Italian, printing out dinner recipes, and being a total control freak with her family and manny. She helps her daughter with a school gardening project and turns it into a giant overblown mess, while her daughter makes her own quaint garden in a cardboard box. And even though ex-co-worker Clayton seeks out Zoe's help, she shuns him for pushing her aside and taking the credit for work SHE did.
Juliet finds herself the object of a charming billionaire's affections, both personally and professionally. They play cat-and-mouse, he wants to sweep her away to St. Bart's on his boat, yada yada yada. She eventually gives him the brush-off. And may I just say that Juliet's snobby demeanor and ginormous chandelier earrings are driving me crazy? Thank you.
Caitlin's boss (Christine Ebersole) pressure her to create a fabulous publicity splash during P.R. week, but things go south when Caitlin's hot young designer flakes out on her two hours before catwalk time. So she improvises by putting elaborate makeup on the models and sending them down the catwalk in their underwear.
Howzabout the writers come up with an original idea, rather than stealing one from Pret-a-Porter? Yeah, I know they were naked in the movie, but this is prime-time, so they had to stray from the formula ever so slightly. I'm still not feeling this show.
Your Daily Blend of Entertainment News
Thank you for signing up to CinemaBlend. You will receive a verification email shortly.
There was a problem. Please refresh the page and try again.