TV Recap: Hell's Kitchen - Finale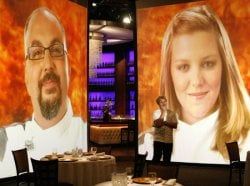 Previously: Oh man, there was a lot of filler. Christina and Petrozza designed their restaurants and had their final challenge. Petrozza won, giving him the opportunity to choose the first member of his team.
We begin with Christina and Petrozza finishing up choosing who will be on their teams. It's down to Jen and Matt and Petrozza picks Jen. This means that his team is made up of Jen, Bobby and Ben, while Christina's team is made up of Corey, LouRoss and Matt.
The teams get together to go over the menus and prepare for dinner service. Unfortunately, it doesn't go very smoothly for either finalist. Proving that there was a good reason Jen and Matt were the last two picked, Jen expresses her utter disbelief that Ramsay didn't see past her attitude, lack of teamwork and poor kitchen skills to declare her Queen of Awesome—or at the very least, a finalist. Matt, on the other hand, starts talking about Christina's attitude and how he has no respect for her. Needless to say, neither contestant is really pulling for a team win at this point.
In the "network-added drama" department, both Petrozza and Christina's restaurants are mysteriously behind schedule. They're both freaking out of course, despite the fact that this is simply a distraction that won't affect anything in the end. Also, I know I mentioned this last week, but it bears repeating: I seriously cannot believe that Petrozza managed to create such a hideous space. Wow. Just…wow.
I'm told that the secret to success is networking. Jen has apparently heard this too, as she uses this opportunity to ask Ramsay for a letter of recommendation. Now, I guess this isn't exactly the right time for something like that, but if I was spending time with Gordon Ramsay, I'd ask him for a letter of recommendation too. Like, not even for cooking—just in general. I would get an all-purpose everyday life letter. That would be sweet.
Corey, a contestant who while talented, has generally rubbed me the wrong way, states a very simple fact that nevertheless needed to be said. "Matt is unstable. He's a little bit delusional and he's psychotic." Preach it, sister.
Ramsay comes down to the kitchen to sample the finalists' menus and offer advice. Christina's is good overall, but he tells her she's playing it too safe and gives her a few small suggestions to jazz up her menu a bit. Ramsay's critiques of Petrozza's menu are slightly more substantial, saying that his first dish tastes "curdled." However, he calls Petrozza's decision to make a soufflé for dessert "brave" and compliments him on the taste. So menu-wise, Christina may have a slight edge, but Petrozza is coming in strong.
Next, it's time for Ramsay to tour the restaurants. We see Christina's first, through the patented Barbara Walters silk-stocking filter. Like her menu, it's simple and contemporary. The fake city views are freaking me out, but my guess is that they're just supposed to represent windows, not city views as an artistic choice. Ramsay says it's very contemporary and elegant and tells her that she should be proud.
I'm so confused. When Ramsay goes over to Petrozza's side, instead of yelling at him and saying that his restaurant looks like the inside of an old woman's purse, he calls it "rustic," as well as "nice and elegant." Petrozza even has the audacity to call it "a place where the guys can come too," and Ramsay doesn't shove the stem of one of his fake flowers through his eyeball. We've clearly gone through the looking glass here, people—and I don't like it.
Dinner service is about to start. Each chef has 13 tables with 50 guests. The guests' comment cards will help determine the winner. Christina gets off to a strong start, sending out her first appetizers quickly. Meanwhile, Petrozza's difficult menu poses problems for him right away, when Bobby sends out cold apps. Luckily Petrozza doesn't send them out and gives them back to Bobby to reheat.
After Christina's smooth start, things quickly go downhill for her. LouRoss begins floundering on his station, so she calls Matt in to help. Matt, however, has apparently never made a salad before and wastes time grilling LouRoss on the mechanics of putting lettuce in a bowl.
Petrozza's kitchen also runs into some problems due to poor communication and even poorer station prep, as he appears to run out of two appetizers at about the same time. After Ramsay threatens to shut down his kitchen if he doesn't fix this, he and Bobby come up with lobster risotto as a replacement dish.
As the kitchens begin their entrees, a couple of Christina's dishes get returned to the kitchen for being "lukewarmish." They fix the steaks, but it causes a backup in the kitchen. Luckily, Christina steers her team through the setback and they quickly get back on track. Petrozza runs into a similar problem with a backup in his kitchen, but manages to clear the bottleneck as well.
Back in Christina's kitchen, Ramsay yells at Matt for sending a dish out raw, and he starts talking smack under his breath. This is nothing new, except that this time he's apparently suicidal, as he seems to be directing his ire toward Ramsay himself. It's as much evidence of pure insanity as I've ever seen.
At the end of the service, Ramsay interviews that at this critical junction, the chefs are neck and neck. Both contestants get their desserts out to rave reviews from the diners and the final Hell's Kitchen service comes to an end.
After service, when Ramsay invites Christina and Petrozza up into his office to reveal the winner, he ditches the Fox playbook and takes on his whispery BBC voice to tell them how difficult his decision was. It's kind of mesmerizing.
Ramsay tells them to step up to the doors. They wish each other good luck as Ramsay whispers that the person whose door opens will be the executive chef at London West Hollywood, a position worth $250,000. Ramsay tells them to open the door and…
Christina's door opens!
I've got to say, I'm kind of surprised. I really thought that like last year, experience would win out. I never really rooted for Petrozza, but I'm kind of sad that he didn't win. He got off to an awkward start, but I feel like he really proved himself at the end. However, Ramsay's explanation that he thinks long term makes sense, as I definitely see Christina as an up-and-comer.
So that ends another season of Hell's Kitchen. What are your thoughts? Did Christina deserve it, or does Ramsay's choice make him a donkey?
Your Daily Blend of Entertainment News
Your Daily Blend of Entertainment News
Thank you for signing up to CinemaBlend. You will receive a verification email shortly.
There was a problem. Please refresh the page and try again.