The 10 Best Free TV Shows Online And Where To Watch Them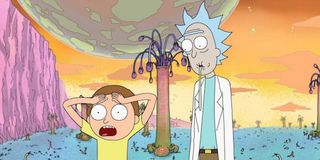 So, you traded in your cable provider for some good, old fashioned bunny ears, hoping to rely on digital streaming services like Netflix or Hulu to watch your favorite, but even they have proven costly. Where is there left to turn to watch free TV shows online?
Fear not, because there are, in fact, multiple streaming services, such as Crackle, Pluto, or Vudu, in which you can legally watch free TV online. The amount of modern favorites and iconic classics there are to choose from is quite surprising and, since the service costs nothing, each series comes with occasional ad breaks for that classic TV viewing feel.
To help narrow down your search (granted you can actually find a search bar on some of these sites), we have taken the time to comb through these services and found some of these series they have to offer as a recommendation for you. We present just 10 of the best free TV shows to watch online.
All in the Family (Crackle)
While television was still in its infancy, the typical American family was depicted by sitcom standards as a pleasant group of mild-mannered, open-minded, and extraordinarily polite folk, such as The Brady Bunch or the Cleavers on Leave it to Beaver. That would all change with the the 1971 debut of Norman Lear's multi-award-winning series All in the Family.
The comedy, which ran for 9 seasons, followed the daily conflicts between cantankerous bigot Archie Bunker (Caroll O'Connor) and his meek wife Edith (Jean Stapleton), daughter Gloria (Sally Struthers), and son-in-law whom he calls "Meathead" (future Oscar-nominated filmmaker Rob Reiner) over topics that reflected modern culture. Garnering as much acclaim as it did controversy, All in the Family saw a major turning point in the challenging nature of primetime television and continues to be largely influential, even inspiring a recreation along with The Jeffersons in ABC's Norman Lear tribute, Live in Front of a Studio Audience. Stream Seasons 7 and 8 on Crackle here.
Chappelle's Show (Hoopla)
Dave Chappelle had a modest career in film, with roles in aerial prison break flick Con Air and the financially disastrous stoner flick he co-penned with Neal Brennan, Half Baked. However, it was the cultural juggernaut of his Comedy Central series, Chappelle's Show, that got him noticed as one of the greatest voices in comedy.
Short-lived (Season 3 ended abruptly after its star infamously walked away from a $50 million deal), but much loved, Chappelle's Show is ranked alongside, and arguably surpassed, sketch comedies like Saturday Night Live or Laugh-In with its shockingly bold and brilliantly poignant takes on everything from pop culture to politics and memorable characters like Tyrone Biggums or Dave Chappelle's hilarious impersonation of rapper 'Lil Jon. Be on the look-out for series highlights like Charlie Murphy's True Hollywood Stories or Dave's quarrel with a loose-cannon Wayne Brady. Stream the first season on Hoopla here.
Dark Shadows (Tubi)
You might have missed out on Tim Burton's humorous vampire tale Dark Shadows starring Johnny Depp, but if you did catch it, you might have wondered what hell it was supposed to be. Turns out that the late '60s, early '70s series it inspired is, with the exception of supernatural themes, quite different.
The gothic daytime soap opera, which lasted more than 1200 episodes over five years, about a wealthy family plagued by unexplainable circumstances in a Maine village rose in popularity after its flagship character, vampire Barnabas Collins (Jonathan Frid) was introduced 10 months into its run. Dark Shadows has seen countless revivals on television and, of course, Tim Burton's failed 2012 big screen adaptation, but nothing has lived up to the Collins' eerie adventures against ghosts, werewolves, and other things that go bump in the night in the original cult classic. Stream it on Tubi here.
Hell's Kitchen (Crackle, Tubi, Pluto TV, Vudu)
Singing competitions have always been most entertaining when Simon Cowell serves as one of the judges, simply for his blunt, even rude, criticisms on series such as American Idol and, more recently, America's Got Talent. So, in that regard, which cooking competition host would you rather see in action: the rosy Giada de Laurentis or short-fused cherry bomb Gordon Ramsay.
The British chef has brought his expert gastronomic opinions to shows like Master Chef or Kitchen Nightmares for years, but none have seen him at his most infamously barbaric than the aptly titled Hell's Kitchen, entering its 19th season in 2020. Aspiring cooks are put to the ultimate test Gordon Ramsay, who will put contestants in the verbal meat grinder for serving up anything less than perfection, bringing the stakes and entertainment level of kitchen activity on television to unprecedented heights. Stream it on Crackle, Tubi, Pluto TV, and Vudu.
Masters of Horror (Tubi, Vudu)
If you ask me, no streaming service is complete without a horror anthology series. Fortunately, instead of having to pay to watch Black Mirror or The Twilight Zone on Netflix or Hulu's Blumhouse-produced series of feature-length thrillers collectively titled Into the Dark, you can indulge in a variety of interspersed chilling storytelling for nothing with Masters of Horror.
Originally airing on Showtime in the mid-2000s and lasting two seasons, the Emmy-winning Masters of Horror is essentially a collection of horror movies helmed by some of the most iconic names in the genre, including as Dario Argento, Joe Dante, and John Carpenter, who bring their signature disturbing vision to some very unnerving stories. With 26 episodes feature-length episodes, those in search of the ultimate horror binge need not to look any further. Stream it on Tubi here and Vudu here.
Rick and Morty (Hoopla)
It is not often that a concept that is as ludicrously bizarre as it is uncomfortably dark becomes a dominant force in the pop culture landscape. However, what is essentially a crude parody of Doc Brown and Marty McFly's relationship in Back to the Future at face value, is one of the most inventive and highly acclaimed pieces of art on television that only takes a library card to watch for free.
Justin Roiland, who co-created Rick and Morty with Community mastermind Dan Harmon, also provides the voice of the titular alcoholic scientist and his anxious teenage grandson whose adventures across galaxies and dimensions often cause trouble for their family, not to mention all of humanity. Currently in its fourth season, Rick and Morty is still on fire seven years after its premiere on Adult Swim with an unbeatable creative energy that masterfully fuses off-beat sitcom antics with Lovecraftian fantasy to earn a place among one of television's most worshipped comedies, animated or not. Stream Season 1 on Hoopla here.
Roseanne (Crackle, Pluto TV, Vudu)
Every generation has its cultural revolutions on the small screen. For the '70s, it was the cynical cultural perspective of the aforementioned All in the Family, but in the late '80s, it was another redefinition of the family sitcom as seen through the eyes of a blue collar family with more problems than they can handle, titled after its outspoken female lead, Roseanne.
Roseanne Barr and John Goodman both received Golden Globes for their performances as the mother and father of the Conner clan, whose evolution was chronicled over nine seasons of relatable daily struggles and controversial opinions. While Barr's controversial opinions would eventually get her fired from ABC's 2018 revival (later revamped as The Conners), Roseanne's initial run was praised as an authentic portrait of American life, aside from its bizarre, but ghoulishly awesome, annual Halloween specials. Stream it on Crackle, Pluto TV, and Vudu.
Spaced (Tubi)
Before taking the world of cult cinema by storm with their uniquely humorous takes on genre convention in Shaun of the Dead and Hot Fuzz, the creative partnership of Simon Pegg and Edgar Wright began with this groundbreaking British sitcom. Co-creators Pegg and Jessica Hynes (then Stevenson) star as mismatched pals who pretend to be a couple in order to obtain an apartment in a building overrun with irreverent characters.
Despite that decidedly simple plot summary, what sets Spaced apart from other comedies in just two short seasons is Simon Pegg and Jessica Hynes' aggressively subversive wit and the visually striking, signature directing style of that has made Edgar Wright a behind-the-camera hero. Throw in some cleverly executed pop culture references to spice up its mundane themes and you have some joltingly invigorating entertainment. Stream it on Tubi here.
SpongeBob Squarepants (Hoopla)
When I think of who I would consider to be the most culturally influential animated characters of all time, the names that come to mind include Mickey Mouse, Bugs Bunny, and, indeed, SpongeBob Squarepants. In fact, I would go as far to say that, since his 1999 debut even Disney's flagship rodent and the de facto frontman of the Looney Tunes has had nothing on the porous sea dweller in his 12 seasons and counting.
Created by late marine biologist-turned-animator Stephen Hillenburg, SpongeBob Squarepants follows the adventures of the titular childish fry cook and his colorful circle of friends in undersea town of Bikini Bottom. It remains one of the funniest animated series in memory and a highlight in Nickelodeon's history as a program that has brought joy to children and adults alike all over the world. Stream Season 1 on Hoopla here.
Whose Line Is It Anyway? (CW Seed)
Sometimes scripted television gets kind of old. As a refreshing alternative, why not watch four people scramble to put a scene together all off of the top of their heads on Whose Line is it Anyway?
Originating on British television, the show has seen two American revivals hosted by Drew Carey and later Aisha Tyler, with all 15 seasons featuring much of the the same cast of performers (including Wayne Brady and Ryan Stile) participating in elaborate improvisational games to gut-busting results. They sing, they dance, they even use each other as props, never failing to earn a laugh even when things get out of hand. There is no question that Whose Line is it Anyway? is one of the funniest programs to grace the small screen. Stream it on CW Seed here.
We hope we have given you a sufficient glimpse into the world of free online TV with our list of recommended programming. Any favorites on your preferred free streaming service you would have included? Let us know!
Jason has been writing since he was able to pick up a washable marker, with which he wrote his debut illustrated children's story, later transitioning to a short-lived comic book series and (very) amateur filmmaking before finally settling on pursuing a career in writing about movies in lieu of making them. Look for his name in just about any article related to Batman.