TV Recap: The Hills – It's Raining Jen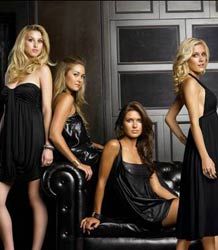 Text messages start and end everything on The Hills, and the most important ones in Lauren's increasingly she-said-he-said (literally—Jen Bunney told Lauren that, according to Heidi, Brody was the one who started the sex-tape rumor) life all conveniently transpire at the Teen Vogue intern-and-boss closet. Whitney and Lauren's facial exchange over the prospect of an informational lunch with Jen Bunney captured the astronomic (yes, even for Hills standards) potential for drama. Sunglasses on, old nose off, Jen Bunney met the camera with the silhouette of evil's embodiment. Lauren and Jen shared coldly civil words. Jen relayed Heidi's blaming of Brody, though Lauren treated the suggestion like a magazine with Heidi on the cover—she didn't buy it.
Lauren showed some admirable self-awareness when she apologized to Audrina (who shared a non-abusive, vaguely healthy moment with J.B. as they played pool and J.B. wondered why things can't always be mellow—looks like MTV is going to pass on a J.B. Hills spin-off) over her anti-J.B. behavior in Vegas.
A well-timed dinner with Brody gave Lauren the opportunity to uncover the facts. After some awkward moments of dishonesty on Brody's part, Lauren finally got Brody to tell her that he was completely sure "they" were responsible, suggesting that he had been previously withholding the knowledge in order to show loyalty to now-ex BFF Spencer. An even more curious truth surfaced as Lauren recounted the dinner to Whitney, who claimed to have gone to sleep at 10 the previous night. So that is why Whitney has no storyline! Could she really not have even stayed up to see The Hills?
Heidi, whose Lisa Love-like encounter with Brent over unacceptable sub-request behavior had already put her in a bad mood, was furious when lunch mate (and bridesmaid?) Jen (nope, it wasn't the plastic surgery playing tricks on your eyes, Jen really did take more than half a bite of her food) questioned her innocence in the sex-tape affair. Heidi vehemently defended herself, but when she went home to Spencer ambiguity abounded. A still-hirsute Spencer never explicitly said he had no involvement in the sex-tape rumor as he bashed Brody, and Heidi skeptically stared back at him, as if for that one moment she had finally broken Spencer's psychological hold over her. Yeah, sure, and Jen Bunney does dinner encounters.
Your Daily Blend of Entertainment News