TV Review - Psych - Six Feet Under The Sea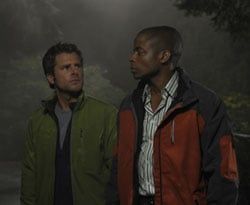 Psych - Season 3.5: Six Feet Under The Sea
Starring: James Roday, Dule Hill, Corbin Bernsen, Timothy Omundson, Maggi Lawson, Kirsten Nelson, Ted McGinley (guest-star)
Created By: Steve Franks
Premieres: Friday, January 9, 2009 at 10/9c on USA
As is often the case in Psych, the Season 3.5 premiere of the USA series opens with a flashback of friends Shawn (Roday) and Gus (Hill) from when they were younger. We learn that Shawn has an unrealized dream to ride a dolphin and as it turns out, aquatic life plays a very big role in this week's episode, tiled "Six Feet Under the Sea."
After Gus drags Shawn to the funeral of Shabby the Sea Lion, Shawn quickly comes to realize that Shabby's death wasn't just some unfortunate accident. He was murdered. He and Gus set out to figure out what happened to Shabby and the duo unintentionally stumbles across an even bigger conspiracy.
The episode features a guest appearance by Ted McGinley, whom some of you may remember well as Jefferson D'Arcy from Married with Children as well as a number of other film and TV roles. In Pysch, McGinley plays Randy Labeta, an egotistical celebrity known for his work on Animal Planet. Naturally, he's a suspect as is everyone else who was close to Shabby.
Shawn and Gus get caught up in the investigation and also manage to get into a dispute over which one of them should pursue the pretty, blonde conservationist that's trying to help them with the investigation. For those of you out there still waiting to see whether Shawn and Juliet will ever manage to get together, know that there's a little nod to that story arc in this episode.
What works about "Six Feet Under the Sea" is the same thing that works for every other decent episode of Pysch. Shawn and Gus spend the duration of the episode bickering over silly things ranging from the investigation, the girl they both like and things that happened in their past that neither is willing to let go of. It is their yin and yang friendship, added to their history together and the work they do that makes the series so much fun to watch.The dialogue between the two characters is as fresh as ever, so any fan of the series should be pleased with this new episode.
Image 1 of 7