TV's Soon-To-Be Breakout Stars of 2014: The Mindy Project Writer Tracey Wigfield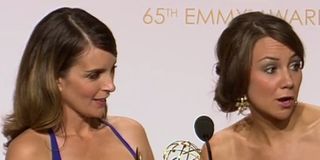 After going through the motions of highlighting everything that was good, bad, amazing, or generally confounding about the year that was 2013, we felt it was time to move on, to look ahead; to not only make note of things we want in the form of resolutions, but to set a course for the deserved to get their due course. So we've decided to highlight these perfect TV storms to let you know who's on the cusp of making it big in 2014. Previous subjects includeHeléne Yorke and Hamish Linklater, and now were honoring The Mindy Project writer Tracey Wigfield, one of the funniest women writing in television today. If the world is just, this will be the year of the Wiggles (a nickname we just decided on for her right now).
If you haven't tuned in to the second season of The Mindy Project, you're seriously missing out. And not just because of Chris Messina's dance moves, Xosha Roquemore's hilarious Tamra, or Ike Barinholtz's endearing and dumb Morgan Tookers, but because the show is the current home of one of television's greatest writing talents, Tracey Wigfield. And if you weren't familiar with her prior to today (she won the Emmy alongside Tina Fey for writing the series finale episode of 30 Rock), it won't be long before hers is a staple on the scene. Because Wigfield is one of the brightest rising TV writing stars on television and we're totally obsessed with her talent. If the world is just, 2014 will see big things happen for her.
Seriously. Tracey Wigfield has written some of my favorite television episodes from the past few years. Which is impressive considering how huge the comedy playing field has become. Starting out as a writers' assistant at 30 Rock, Wigfield eventually bumped up to staff writer and producer, honing her funny under the doesn't-get-any-better tutelage of Fey and Robert Carlock. Where lesser writers might struggle under the weight and pressure of being groomed by such impressive figures, Wigfield has managed to create a voice with a confident strength that's wholly her own. And it's translating into a win for her current homestead.
As a writer on Mindy, Wigfield has not only strengthened her own game, she's written some of the series' best episodes ever. Arguably elevating the show beyond its at-times uneven season one start and into the most-improved network comedy on TV. Working with fellow genius writer-slash-all-around-TV-boss-lady Mindy Kaling, Wigfield has proven herself to be just as capable as the seriously impressive women she works alongside. (Click here for the accompanying music cue.)
Probably because at the heart of Wigfield's writing — no matter the outlandishness of the scenarios — is, well, heart. Emotional honesty even in comedic absurdity can be a hard trick to master, and can so easily be under-serviced, but Wigfield just fucking nails it: simple as that. She shines brightest at the convergence of the two, and, frankly, inspires the hell out of aspiring would-be TV writers (because cough cough, I would know). We're, quite simply, endlessly inspired by the work that carries her name: it's become a seal of quality, and one we approve of tremendously. Is there anything better than a goofy, honest, funny, strong boss lady writing the shit out of TV? The answer is hell to the no, for those of you who are slow on the rhetorical question tip. So here's to you, Wigfield, and may 2014 bring you the best year of your writing career, and by association, our favorite year of watching.
Your Daily Blend of Entertainment News
Thank you for signing up to CinemaBlend. You will receive a verification email shortly.
There was a problem. Please refresh the page and try again.