Terriers Preview: Asunder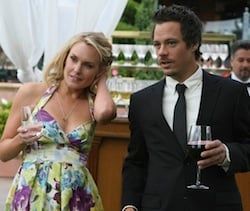 Terriers has been consistently awesome all season and tomorrow night's episode is no exception. We have some clips and a trailer for the episode to share with you!
Last month, I said Terriers was one of the best new shows of the fall season. Having seen the final four episodes of Season 1, I feel comfortable saying that this series isn't just one of the best new shows this fall, it's also one of the best shows on TV right now. Among the not-so-secret blend of spices making Terriers stand out above the rest, great actors, excellent writing and a sunny San Diego backdrop.
This week's episode features Gretchen's big day. It's also obviously a big day for Hank, who's a recovering alcoholic and about to put his successful run of sobriety to the test as his ex-wife walks down the aisle with another man. The Ocean Beach conspiracy also resurfaces in this episode.
Below is the trailer for the episode and further down are the clips FX released.
What's the likelihood that private-detective Britt isn't going to notice Katie isn't drinking alcohol?
Terriers airs Wednesdays at 10:00 p.m. ET on FX.
Your Daily Blend of Entertainment News
Thank you for signing up to CinemaBlend. You will receive a verification email shortly.
There was a problem. Please refresh the page and try again.