Thomas Gibson's Agent Hotchner Back For Season 7 Of Criminal Minds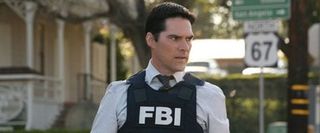 Two weeks before production is set to begin, Thomas Gibson has declared he will, in fact, return to Criminal Minds. If you read Mack's article a few weeks ago, you know how big this deal is. For weeks, there was glitch after glitch as Gibson, who plays Agent Hotchner on the show, declined to sign a new contract and writers grew more edgy as production dates edged closer and no story arcs could be written.
All the waiting paid off -- for Gibson at least -- as Deadline is reporting Hotch has signed on for two more years. His new salary, which lands somewhere in the seven-figure range, will more than double what he made in contracts past. I guess he's a real hot commodity, because there were rumors when the two Criminal Minds leading ladies were first curbed from their roles, high salary costs were the main reason.
I'm not sure if anyone ever really believed Thomas Gibson would leave the show. He's still been responsible for recent press junkets and the like. Still, Criminal Minds writers, who have been at the drawing board for over a month, doubtless could have used an earlier okay-go from CBS and Gibson. Maybe they'll write in something really gruesome as payback. Although, they've already taken the liberty to kill off Hotchner's wife. How much more can one man take?
Your Daily Blend of Entertainment News