Tim Daly Exits Private Practice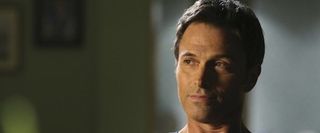 The Grey's Anatomy spin-off series Private Practice will be back for its sixth and possibly final season fall, but one of its leads won't be back with it. Fans of Tim Daly may be disappointed to learn that the actor will not be returning to the ABC medical drama series for Season 6.
According to Deadline, no final decision has been made on the fate of the series, so it's unknown as to whether or not the 13-episode sixth season ordered by ABC will be Private Practice's last. What seems fairly certain, based on the tweet the actor shared last night, is that Tim Daly will not be returning to the show next season.
Daly's character's fate was apparently somewhat up in the air as of Season 5, when he was sent to prison for euthanizing a patient. Of course, fans might have hoped that there was some way out of the situation for him, but apparently not. Prison is certainly a harsh sentence for a character in a TV series, but then again, given how Grey's Anatomy and Revenge ended this season, with various characters at death's door, perhaps Pete Wilder got off easy.
As Deadline notes, changes with the series aren't limited to what's going on on-screen, writers Steve Blackman and Craig Turk have reportedly been replaced by Jennifer Cecil and Barbie Kligman, who were both promoted to executive-producers/co-head writers. So fans may expect something a bit different next season, and that includes a major lack of Pete.
Your Daily Blend of Entertainment News
Thank you for signing up to CinemaBlend. You will receive a verification email shortly.
There was a problem. Please refresh the page and try again.