Tim Griffin Talks About NBC's American Remake Of Prime Suspect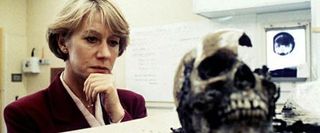 Tim Griffin is everywhere. You've likely seen him in films like Leatherheads and Cloverfield as well as on TV shows including Grey's Anatomy and 24. Not only is Griffin adding to his resume with films like Super 8, The Collection, A Better Life and more, but with a new TV show as well, an American remake of the British series, Prime Suspect.
The original police procedural drama kicked off in the early 90s with Helen Mirren starring as Jane Tennison, an all-business detective working at the Metropolitan Police Service, also known as Scotland Yard. This time around, Mario Bello assumes the lead role renamed Jane Timoney. Griffin stars as Detective Augie Blando who is "a little bit of the comic relief." Augie is a member of a collection of detectives called "The Beef Trust." Griffin explained, "We're just sort of like the guys that all the cases go to, we do things our way … and Maria comes in and she's like one of these – she's this brilliant detective, but she comes out of nowhere and suddenly she's in our department and it's a real battle of the sexes at first."
At the moment, the group is just working on the pilot, but Griffin is confident in Prime Suspect's chances. "You never know what's going to happen. This definitely has the heavy hitters behind it, so you hope for the best." He assures us, "The way you see [the pilot] end, you'd want to see more of it." Well, if we take Griffin's word for it, NBC, who owns the rights to the piece, could be queuing up the project for a future lineup. In terms of all the resources and talent behind this one, I'd bet on it.
Check out everything Griffin had to say about working on Prime Suspect thus far in the video interview below.
Your Daily Blend of Entertainment News
Staff Writer for CinemaBlend.
Your Daily Blend of Entertainment News
Thank you for signing up to CinemaBlend. You will receive a verification email shortly.
There was a problem. Please refresh the page and try again.