Tom Clancy's Homeland Security Being Developed For TNT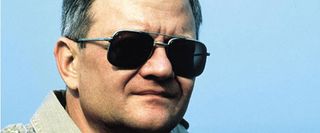 Only a few days after TNT canceled the Jada Pinkett Smith vehicle Hawthorne, the network has a new project in the works. This one won't focus on lives, hospitals, or relationships. Instead, enemies will be fought and mini-battles will occur. Think: Tom Clancy novel, precisely because TNT's new project will also be a Clancy project.
Tom Clancy's Homeland Security is being developed for TNT by Michael Orvitz. If the project goes to series, it will be the first television credit for the former Disney President. The TV project is also rare for Clancy, who is more famous for adapting works into films, most notably with installations in the Jack Ryan series. Clancy is also set to executive produce with the man whose last name sounds dangerously close to a gum brand.
Clancy won't be alone in scripting the plot for his project. According to THR, Tom Clancy's Homeland Security is about a team of domestic operatives dealing with enemies both near and abroad, will also be penned by Javier Grillo-Marxuach and Chris George. Regardless of my disdain for some of Clancy's novels, I'm actually pretty excited for his TV project. Especially when Hawthorne was still in the cards, the network had a lot of female-led programming. That seems awesome, but it also could be dangerous for a network. You don't want to skew too heavily toward one gender, lest your become Spike or Lifetime. A nice balance can go a long way.
As always, stay tuned to Cinema Blend for further details on the Homeland Security project.
Your Daily Blend of Entertainment News
Thank you for signing up to CinemaBlend. You will receive a verification email shortly.
There was a problem. Please refresh the page and try again.