Upcoming Michael B. Jordan Movies And TV: What's Ahead For The Creed Star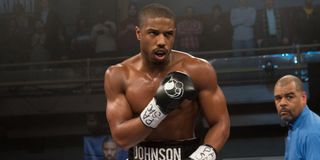 As one of the most respected and sought-after screen actors of his generation, keeping up with the filmography Michael B. Jordan is actually more challenging than it sounds. One day you may hear talk of him doing a third Creed movie, or even more online rumors suggesting he is preparing to reprise his Black Panther role, and followed by the question if he, instead of the return of retired NBA star Michael Jordan, will show-up in the long awaited Space Jam 2. Then, much to your bewilderment, you learn that that two of these unlikely ideas actually have some truth behind them.
Indeed, the 2020 recipient of People Magazine's choice for the "Sexiest Man Alive" is a busy guy, and has been since he first broke into show business as a Toys 'R Us Kid before making his official acting debut on the first season of The Sopranos in 1999. Although he would get people talking at a young age on fellow HBO crime series The Wire or the beloved NBC sports drama Friday Night Lights, it was not until he gave a stunning performance in the tragic biopic Fruitvale Station, his first collaboration with writer and director Ryan Coogler in 2013, that he began getting asked to play superheroes, supervillains, and even a fictional basketball player in the NBA 2K17 video game.
But, to dial back on those earlier inquiries, will Michael B. Jordan really be playing Eric Killmonger again in a future Marvel Cinematic Universe installment and will he also make a triumphant return to the ring as Adonis "Donnie" Johnson in Creed III? I just may have the answer to those questions and more regarding the future of this 33-year-old Emmy nominee and blockbuster hero in the following preview of nine projects he is said to have in store for the big screen and small screen alike. We shall start things off with what is looking to be one of the most exciting action films of his career yet, especially now that it has been given a confirmed release date.
Tom Clancy's Without Remorse (2021)
Following Willem Dafoe in Clear and Present Danger and Liev Schreiber in The Sum of All Fears, Michael B. Jordan will be the third actor to play John Clark, a Navy SEAL who exists in the same universe as CIA agent Jack Ryan, in Tom Clancy's Without Remorse. Based on the celebrated late author's 1993 bestseller from a screenplay by Academy Award nominee Taylor Sheridan, the film follows a vengeful Clark, hellbent on avenging the brutal murder of his wife, but finds himself embroiled in a much larger and more sinister conspiracy in the process.
The action-packed adaptation has seen its ups and downs in development since the early '90s and reached its peak when Covid-19 forced Paramount to cancel the theatrical plans. Eventually, Amazon Prime would step to negotiate acquiring distribution rights and hope to release the film in 2021. However, currently, the film still has no official release date.
What If…? (2021)
When I said that there was some truth behind Michael B. Jordan reprising the villainous, yet empathetic, Erik Killmonger, that did not mean to expect to him to show up in Black Panther 2, especially with how things ended up for him in the first movie. However, Jordan does appear in the cast listing (and credited as his Black Panther character, too) for the premiere episode of the upcoming Disney+ exclusive What If…? - an animated anthology series that reinterprets notable characters and stories from the MCU in an alternate timeline.
We can only imagine what Killmonger's role will be, but considering the life he could have had in Wakanda or even how close he came to achieving his plans for a race war, his potential What If…? scenario seems to be one especially worth looking forward to when it drops sometime in 2021.
61st Street (2021)
Not only is the Emmy-nominated star of HBO's Fahrenheit 451 returning to the small screen as an actor in 2021, Michael B. Jordan and his company Outlier Society Productions (which he launched in 2016) are bringing a new thriller called 61st Street to AMC. The courtroom drama centers on a young, black athlete named Moses Johnson (British star of Doctor Who and Star Wars: The Force Awakens Tosin Cole), whose promising future is cut short when he becomes a victim of the infamously corrupt legal system of his hometown in the South Side of Chicago.
Jordan will executive produce the series - which will also star Emmy-winning American Crime Story and Lovecraft Country star Courtney B. Vance - with creator Peter Moffat, whose BBC hit Criminal Justice served as inspiration for HBO's addictive crime drama The Night Of in 2016.
Creed 3 (November 23, 2022)
In addition to high-scale comic book flicks, Michael B. Jordan and Ryan Coogler would team-up a second time after Fruitvale Station for a sports drama - particularly a reboot of the Rocky franchise from the point of view of Apollo Creed's illegitimate son, played by Jordan. Creed became a huge critical and commercial success in 2015, earning awards recognition and a 2018 sequel that Coogler did not return to direct due to his commitment to Black Panther.
While Coogler will not be returning the for announced third installment, reports suggested that, in addition to reprising boxing star Adonis Creed, Jordan would inherit the reins himself and make Creed III his directorial debut. Co-star Tessa Thompson would confirm his place in the director's chair in December 2020. THR made the news that Jordan will direct Creed III even more official in March 2021, also announcing that the release date for the movie is set for November 23, 2022.
Methuselah (TBA)
Michael B. Jordan is slated to play the lead of Methuselah (a part originally intended for Tom Cruise), which Danny Boyle has also been tapped to director for Warner Bros. That is about all that I can say about this action thriller that is currently in pre-production - not because the plot is being kept under wraps but, more accurately, that it is apparently being reimagined as we speak from its original concept as the story of a man who lives to be nearly 1,000 years old. Given the film's title still shares a name with a biblical figure who matches that very description, we can probably assume that the final product will not veer too far from that idea.
Untitled David O. Russell Project (TBA)
We also cannot say much about this upcoming film from Regency Pictures since, in addition to having no title at the moment, the plot actually is being kept under wraps. What we do know is that, February 2020, Michael B. Jordan reportedly joined the cast of the drama that will see Oscar-nominated filmmaker David O. Russell return to the director's chair for the first time since he made Joy in 2015. Christian Bale, a frequent collaborator of Russell's, and first-time collaborator Margot Robbie have also joined the cast.
Wrong Answer (TBA)
Just like how audiences are always eager to see another Steven Spielberg/Tom Hanks vehicle or when Martin Scorsese and Leonardo DiCaprio will team-up again, the next pairing of Michael B. Jordan and Ryan Coogler is greatly anticipated. However, instead of high-scale comic book flick, the actor and director duo's fourth collaboration will be a fact-based drama called Wrong Answer - inspired by an article of the same written for The New Yorker by Rachel Aviv. Jordan will play Damany Lewis, the subject of Aviv's 2014 story who was caught changing his math class students' scores in hopes to earn extra funding for his middle school in Atlanta.
The Thomas Crown Affair (TBA)
Speaking of reboots, the classic 1968 crime thriller The Thomas Crown Affair starring Steve McQueen would later be reimagined in 1999 with James Bond star Pierce Brosnan and, in 2016, the idea of second remake was proposed to no avail. In 2019, Joe and Anthony Russo announced their plans to finally make that remake a reality with Michael B. Jordan as the titular wealthy playboy who desires to pull off the perfect heist.
The sibling directorial duo and superhero movie golden boys said during their panel at that year's San Diego Comic Con that, as fans of both versions of the story, they were looking forward to putting their own spin on it, especially with fellow MCU alum Jordan as their leading man, whom they would then describe as "one of the great actors of his generation without question."
Static Shock - Producing (TBA)
Michael B. Jordan and Outlier Society Productions will also be bringing other unsung superheroes outside of the Marvel lexicon to the big screen. In October, it was announced that Jordan will proudly serve as producer for a feature-length adaptation of Static Shock - a DC Comics/Milestone Media title about a high school student named Virgil Hawkins, who use his electrokinetic powers to fight evil, and also inspired a popular animated series on The CW when it was still called The WB. Seeing a young, black superhero like Static finally get a live-action cinematic adaptation is a truly exciting development in the future of DC movies, especially with Jordan involved.
What do you think? Will Michael B. Jordan make a great Thomas Crown, or should someone of his talent steer clear of any further remakes and reboots and stick to more original content. Let us know in the comments and be sure to check back for additional information and updates on the actor, producer, and supposedly soon-to-be director, as well as even more insight into what to expect from your favorite celebrities, here on CinemaBlend.
Your Daily Blend of Entertainment News
Jason has been writing since he was able to pick up a washable marker, with which he wrote his debut illustrated children's story, later transitioning to a short-lived comic book series and (very) amateur filmmaking before finally settling on pursuing a career in writing about movies in lieu of making them. Look for his name in just about any article related to Batman.