Why Michael B. Jordan Thinks His Tom Clancy Movie From Yellowstone Creators Will Make 'Big Splash' At Amazon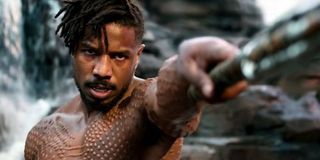 Tom Clancy had an impressive career with his novels getting multiple adaptations for the big and small screens. There have been a number of Hollywood stars to take up the role of his famous character Jack Ryan. But there are quite a few other bad-ass characters in the Clancy universe, and Michael B. Jordan is set to take up the helm as franchise favorite John Kelly. The Creed star is attached to star in the upcoming Tom Clancy adaptation, and will work alongside Yellowstone creators Taylor Sheridan and Will Staples, at Amazon.
In a recent interview Michael B. Jordan discussed his fandom of the Tom Clancy video game franchise in addition to his excitement for the Amazon adaptation. He spoke about the anticipated project, saying:
In his interview with Deadline, Michael B. Jordan mentioned that the upcoming Without Remorse adaptation will dig deeper into the John Kelly character that fans of the Rainbow Six video game franchise may recognize. The Black Panther star also noted that the movie will be the first 'big splash' that he will be making at Amazon.
Without Remorse is based on Tom Clancy's 1993 novel by the same name. The book follows former Navy Seal John Kelly as he takes on drug dealers and is eventually enlisted to help the CIA in a POW rescue mission. The character appears in a number of Clancy novels and video games that share a fictionalized universe.
While video game movie adaptations are notoriously hard to pull off, year after year there are more movies announced based on fan favorite franchises. Even though Tom Clany is more well known for his novels, they have been the basis for a number of popular video game franchises over the years. It's nice to see that someone who grew up with the character will be playing John Clark on the big screen.
Michael B. Jordan has been staying busy since his impressive performance as Killmonger in 2018's Black Panther. He is reprising his role for the Marvel What if..? series on Disney + and will be returning for Creed III.
Only time will tell if Without Remorse will spawn a franchise at Amazon. The streaming giant has already had success with the Jack Ryan series starring The Office heartthrob John Krasinski.
Without Remorse is scheduled to release on Amazon Prime April 30th, 2021. As for the rest of this year's slate, be sure to check out CinemaBlend's 2021 Release Schedule for the latest on everything coming to the big (and small) screen near you.
Into tracksuits by Paulie Walnuts, the Criterion Channel and Robert Eggers.
Your Daily Blend of Entertainment News
Thank you for signing up to CinemaBlend. You will receive a verification email shortly.
There was a problem. Please refresh the page and try again.