Michael B. Jordan Talks 'Intense' Training For New Tom Clancy Movie Without Remorse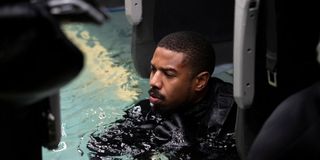 Michael B. Jordan is preparing for the release of his new action movie, Tom Clancy's Without Remorse which is coming to Amazon Prime this month. The Black Panther and Creed star is no stranger to putting in the work for his roles, as he pushes through the training regimens required to play characters like Killmonger and Adonis Creed. This was also the case for Jordan's latest film as well, and the actor recently opened up about the "intense" training that came with prepping for the Tom Clancy adaptation.
Michael B. Jordan has already shared some insane looks at the stunts in his new movie and, now, he is sharing his experience with the preparation he went through for Without Remorse. Jordan spoke about the intensity and the number of different training methods he used for the making of his new film, telling People:
Michael B. Jordan is playing an elite navy seal in Without Remorse, and it seems like his training was designed to cover every base of combat needed to portray such a character. Jordan is used to intense body transformations, from getting ripped to for Creed to beefing up even more to play Killmonger. He is used to the art of fight choreography, so he is an experienced guy when it comes to action movie performance. Without Remorse posed a new challenge for Michael B. Jordan, and he has come out the other side proud of the work he put in.
Aside from Without Remorse, Micheal B. Jordan has another challenge ahead of him. He's been announced as the director of Creed 3, and the project will mark his directorial debut. The film will also bring more changes, as Sylvester Stallone is not returning for the third installment in the Creed franchise, officially retiring Rocky Balboa -- at least for the time being. Recently, Jordan has also remarked on the future of Black Panther and the passing of Chadwick Boseman, not ruling out a return to the Marvel Cinematic Universe if the story and ideas feel right. All in all, "options" is the keyword for Jordan because he has plenty of them.
Michael B. Jordan is taking great leaps in his career, and Without Remorse sounds like it's going to be the actor's greatest challenge yet. Nevertheless, it definitely sounds like he was willing and ready to roll with the punches as they came, which is what you'd expect from the actor playing the son of Apollo Creed. Audiences have seen a number of Tom Clancy films over the years, each bringing their own spin to the novels of the acclaimed author. It'll be interesting to see how this latest film stacks up to the others but, with Jordan and a number of other talented stars, it should be a great movie event!
Without Remorse premieres on Amazon Prime this Friday, April 30th.
Your Daily Blend of Entertainment News
Movie and TV obsessive. A good Heist movie is the way to my heart. Enjoyer of everything from Marvel Movies to Rom-coms.