The Tomorrow People Reboot And Blink Get Pilot Orders At The CW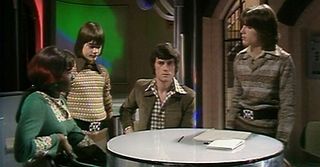 The CW has ordered two more drama pilots, which should be the end of the network's pilot orders for this season. The final two to make the cut are The Tomorrow People, which hails from Arrow's Greg Berlanti and The Vampire Diaries' Julie Plec, and Blink from Smash producer David Marshall Grant. That brings the drama pilots to a total of 8, all of which seem to be a sign of a shift in direction for the CW's programming.
The two new pilots join a slew of high-concept, futuristic and fantastical drama pilots, something of a change from the usual teen soap fare we see at the CW. Of course, the majority of the pilots still focus on teenagers, so the CW doesn't seem to be looking for a new audience, but perhaps just to keep viewers on their toes.
The Tomorrow People focuses on a group of young people scattered across the globe who have taken the next evolutionary step for humanity, giving them special powers that they use to fight evil forces. It's based on a British series that ran from 1973 – 1979, and Berlanti and Plec have been after the rights for some time, according to Deadline.
Blink is a family drama about a man whose car crash leaves him unable to move or talk, but can hear everything. It's described as a warm, quirky and funny drama – so more of a dramedy – which will use fantasy sequences from the father's coma-like state to help put the family's lives in context. Of everything the CW has picked up this season, this one sounds the most down-to-earth, and that's saying a lot.
The two pilots will join projects that include the Hunger Games-like The Selection, the young Mary Queen of Scots drama Reign, and the Vampire Diaries spinoff The Originals.
Your Daily Blend of Entertainment News
Thank you for signing up to CinemaBlend. You will receive a verification email shortly.
There was a problem. Please refresh the page and try again.