The Top 10 TV Shows Of 2015, According To Nick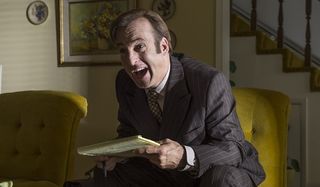 With lots of amazing TV shows ending in 2015, combined with a slew of new shows surpassing expectations, it was a truly spectacular year of television. Not to mention all of the shows hitting their prime. There are so many ways to dig into TV shows these days, it's almost impossible to watch garbage without dedicating effort to it.
Here are my choices for the top 10 TV shows of 2015, culled from a list dozens deep. There are scores of shows left off of this list that I would have sworn were shoe-ins as I was watching them. And after it's been posted, I'll probably change my mind on an hourly basis until 2016 is underway. But at this time, these are the shows that spoke to me the loudest, fed into my pleasures both guilty and honorable, gave me emotional starts, and permanently burrowed their way into my life.
10. Justified
The world was gifted with 6 seasons of watching Raylan Givens and Boyd Crowder match wits and bitter attitudes, and nearly every other protagonist/antagonist relationship on TV pales in comparison. Justified sadly rode off into the sunset in the first part of 2015, but not before it introduced us to captivating new villains played to perfection by Sam Elliott and Garret Dillahunt. It was a satisfying ending to one of TV's all-time best dramas, and it left us wanting more, which is exactly what you want from a beloved future classic.
9. Crazy Ex-Girlfriend
Crazy Ex-Girlfriend comes from Rachel Bloom, the comedian formerly best known for the song "Fuck Me, Ray Bradbury," and Aline Brosh McKenna, the screenwriter of The Devil Wears Prada. Who'd have thought that combination would have created an imaginative and hilarious gem that combines goofy pathos with ingenious genre-crossing musical numbers and a gung-ho cast? Missed predictions aside, The CW is continuing to evolve, and Crazy Ex-Girlfriend will hopefully figure out a way to widen its narrow premise for future seasons, so that it doesn't run out of Josh-steam. The songs "Feeling Kinda Naughty" and "I Love My Daughter," to name just a couple, are worth as many listens as your ears can handle.
8. Empire
Inarguably the biggest freshman series of the year, Empire became an instant ratings monster on Fox in January with its drama-stacked tale of a musical legacy being stretched between mogul Lucious Lyon, his feisty-as-fuckall ex-wife Cookie, and their sons, the fragile R&B crooner Jamal, the rebellious rap star Hakeem and the mentally unstable businessman Andre. We're bound to see even more over the top soapy dramas taking Empire's formula to extremes, as the show is a deft mix of snappy shit-talking, malicious motivations and bonkers twists. It doesn't hurt when the music is catchy, either. The street war-mongering of Season 2 of Empire is a little too silly at times, but it's popcorn TV for the id, and Taraji P. Henson is as can't-miss as anything else on TV.
7. Hannibal
Perhaps one day it will be possible to talk about Bryan Fuller's sumptuous Hannibal without immediately bringing up how awful NBC is for canceling the show during its prime – not its ratings prime, but whatever – but that time is not now. Its absence from our futures does make me appreciate the three seasons we got, as Hannibal told the kind of stories and showed off the kind of visuals that broadcast networks usually balk at. And this year took us to a positively gorgeous Italy, gave us the absolutely terrifying Francis Dolarhyde, and dropped enough blood to swim in. We probably won't get to see Mads Mikkelsen back as the titular cannibal, but he'll never be out of our minds.
6. The Jinx
Our culture has always been interested in true crime, but the double dose of the podcast Serial and HBO's docuseries The Jinx lit up people's brains with conspiratorial wildfires. It wouldn't take much effort to look up the story behind wealthy heir Robert Durst's decades-long criminal history (some alleged, some proven), but it was beyond engrossing watching it all come together under the careful guidance of director Andrew Jarecki. (He directed the fictional Durst-inspired movie All Good Things, which led to this gig.) Sure, some truths were skewed and the timeline was out of sync, but that didn't cheapen the drama behind this perverse onion's unraveling. And that last scene!
5. Better Call Saul
Even knowing that Breaking Bad creator Vince Gilligan was one of the minds behind the spinoff Better Call Saul, and that Bob Odenkirk is perfect in the role, there were still some major reservations accompanying this series' announcement. Thankfully, the show defied all expectations by dropping down the scale of drama in Saul/Jimmy's story, but keeping it just as intense and character-driven. It took no time at all to stop worrying about seeing Breaking Bad characters reprising their roles in this prequel, as Jimmy McGill's pre-phoenix downfall was so intelligently written and well-paced that the only thing I really wanted was more than just ten episodes. And getting Michael McKean back on TV in a role as complex as Chuck McGill was a huge bonus.
4. Transparent
One of the biggest surprises of 2015 was Jill Soloway's Transparent, which put Amazon all over the map with critical acclaim. Season 2 actually just came out today, but all ten episodes are available for binge-watching, and they certainly demand it. Our second co-habitation with the Pfeffermans and their friends takes us deeper into the romance-driven side of Maura's transition, the clusterfuck that is Sarah and Tammy's relationship, Josh's past catching up with his future, and Ali's ever-broadening sexuality. (Judith Light gets to spend more time in the spotlight this time, too.) And it's all as predictably hilarious, dark, uncomfortable and heartbreaking as we hoped.
3. Master of None
For years, Aziz Ansari played the selfish entrepreneur Tom Haverford on Parks and Recreation, further showing off his comedic chops on the stand-up stage. For no real reason, I didn't expect his first scripted creation (with Alan Yang) to become one of the most genuine comedies of the year, but Master of None is a triumph on every level. It puts a down-on-himself Indian character front and center and delves into his history and heritage, which is itself a refreshing detour from the norm, and the romantic dramedy in Master of None travels the silly and sloppy emotional roller coaster that expectedly follows a casual hook-up with consequences. It somehow managed to out-Louie that FX series during one of that show's better years.
2. The Leftovers
Last year, The Leftovers was good, or even really good, if perhaps too damningly dark. But this year, The Leftovers took its ambiguous story beats and emotional turmoil and molded them into the purest of pure TV gold. Things begin with hope, as Kevin and his unique family change locations, but one shocking event unlocks a Pandora's Box of weirdness built on secrets, faith and death (or perhaps absence is a better word). A show that's best knowing as little as possible before watching, The Leftovers and its fantastic cast once again delivered some of the densest personifications of emotions on TV, and ended things on a perfect note that should mean depressing magnificence is coming in Season 3 next year.
1. Veep
For my favorite show of the year, I almost always want something rewatchable, so that my enjoyment won't just live in a one-viewing vacuum. And it doesn't get better than Veep, which seemingly features more jokes per episode than there are politicians in Washington D.C. The writing in Season 4 is as top-notch as ever, with the gang moving up in the world as Julia Louis Dreyfus' Selina Meyer is now the President. Some bonds are strengthened, while some are broken – later, Dan! – and the ensemble couldn't possibly handle the social buffoonery any better. Adding Hugh Laurie as a publicly favored V.P. running mate for Selina was another stroke of genius on a canvas full of them. Veep 4-ever.
Honorable Mentions: Jessica Jones, Parks and Recreation, You're the Worst, Fargo, Daredevil, Wet Hot American Summer: First Day of Camp, Bloodline, Unbreakable Kimmy Schmidt, Red Oaks, Last Man on Earth, All the others
Shameful Exclusions That I Didn't Watch Yet: Mr. Robot, Show Me a Hero, Rectify Season 3
Nick is a Cajun Country native, and is often asked why he doesn't sound like that's the case. His love for his wife and daughters is almost equaled by his love of gasp-for-breath laughter and gasp-for-breath horror. A lifetime spent in the vicinity of a television screen led to his current dream job, as well as his knowledge of too many TV themes and ad jingles.
Your Daily Blend of Entertainment News
Thank you for signing up to CinemaBlend. You will receive a verification email shortly.
There was a problem. Please refresh the page and try again.