The 11 Best Crime Shows Available To Stream On Netflix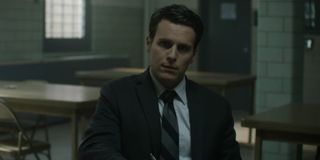 (Image credit: Netflix)
Netflix, in its seemingly infinite catalog, is always a reliable spot to find programming of whatever genre you please. For instance, if you have an undying love for crime shows, the streaming service is guaranteed to provide you with more than enough options to satisfy you.
From police procedurals to even anthology series that cover a different case every season, Netflix offers a vast array of different crime shows spanning different time periods and subgenres to always keep things fresh. Of course, you have so much time to browse the category, so I have narrowed down what I believe are some of the best crime shows you will find on Netflix to just 11 in hopes you will more conveniently find the show of your choice.
What are the best crime shows on Netflix? You are about to find out.
Altered Carbon
One subgenre of crime that rarely ceases to be fascinating is cyberpunk: the crossbreed of science-fiction with noir that places traditional conventions of detective fiction on a futuristic backdrop. An original Netflix crime show that immediately earned comparisons to cyberpunk classics upon its debut was Altered Carbon, which takes place in a time when human consciousness can be converted into a digital file (a la Black Mirror) and transferred into genetically engineered bodies.
Such happens to prisoner Takeshi Kovacs, who is uploaded into a new body (Suicide Squad's Joel Kinnaman) and asked by a digitally resurrected businessman (James Purefoy) to find his murderer. Altered Carbon's intriguing premise (that clearly owes a lot to Blade Runner) is complemented by the astonishing production design that makes it worth a watch, especially to prepare for the upcoming second season in which Anthony Mackie will star as Kovacs' new body. Stream it here (opens in new tab).
American Crime Story
Of course, everyone loves a good procedural like NCIS or CSI or any other CBS series named after an acronym, but what really satisfies true crime fans is… well, true crime. Ryan Murphy, creator of American Horror Story, produces this anthology crime show that dramatizes two famous cases over its two seasons available on Netflix.
The first season of American Crime Story covers the trial of former football player O.J. Simpson (Academy Award-winner Cuba Gooding, Jr.), and Season 2 is mostly a character study focusing on the 1997 killing spree committed by Andrew Cunanan (a Golden Globe-winning performance by Darren Criss), which included the murder of renowed fashion designer Gianna Versace (Edgar Ramirez). These fascinating dramatizations of two of history's most infamous cases have won multiple awards for their gripping storytelling and wonderful casts. Stream it here (opens in new tab).
Criminal
Here we have another anthology crime show available on Netflix, with a different and especially unique structure. In fact, technically, Criminal is not just one series, but four, each taking place in a different country, the only connective element being its refreshing concept.
Each episode of Criminal (three episodes each from the United Kingdom, Spain, France, and Germany) depicts an intense game of cat-and-mouse between the hunter and the hunter (the cop and con) all taking place within the confines of a police interrogation room. This original Netflix crime show is guaranteed to present to you with some of the most pulse-pounding conversations you have ever seen. Stream it here (opens in new tab).
Criminal Minds
One of the most popular police procedurals on CBS that does not have an acronym in the title. Criminal Minds is a long running crime show depicting on the cases of the FBI's Behavioral Analysis Unit, which specializes in visualizing the thought process of the most dangerous people in the United States in an effort to predict their next moves.
Once led by Emmy-winner and The Princess Bride star Mandy Patinkin before Joe Mantegna took over during its third season, Criminal Minds is a must-see for crime show obsessives. It is currently in its 15th and final season and 12 of them are now available to stream on Netflix. Stream it here (opens in new tab).
Dexter
Usually the object of crime shows is to get the viewer to root against the serial killer. Such is not the case for Dexter, the hit Showtime series about a Miami police blood-spatter analyst who uses his homicidal tendencies to bring fellow murderers to justice.
Michael C. Hall won a Golden Globe in 2010 for his performance as Dexter Morgan who headlined the series for eight seasons as a killer audiences could call a hero. However, most Dexter fans would agree that during your binge on Netflix, you might be better off skipping the series finale. Stream it here (opens in new tab).
Longmire
Maybe during your Netflix crime shows binge, you get a hankering for something a little different - something with an almost nostalgic appeal to the good old days of cinema, much like a western! Of course, you still do not want to sacrifice your streak of traditional, episodic cops and robbers storytelling. Fortunately, this series, exclusive to Netflix, might be just right.
The title character of Longmire, played by Robert Taylor, is a widowed Wyoming sheriff whose battles against crime in his county are just one of his many ways of keeping the pain of losing his late wife hidden beneath his dry wit and mischievous grin. Originally running on A&E before Netflix picked it up in 2015, Longmire is a modern-day tale of redemption told over six seasons and based on a series of novels by Craig Johnson that will thrill the western-lover in you. Stream it here (opens in new tab).
Lucifer
Two genres that you do not see cross paths as often as I wish they would is crime and supernatural, which could have something to do with the more common interest in crime that is believable. One of the most solid arguments against that theory, however, is the enduring popularity of this Netflix crime show in which the title character takes on the unusual role of being the good guy.
Tom Ellis plays Lucifer Morningstar (a.k.a. Satan), who grows tired of his life as the ruler the underworld and decides to take human form and move upward to settle in Los Angeles, where he takes an unexpected job as a consultant for the LAPD where he helps punish the world's sinners in a new kind of way. Inspired by a DC comic, Lucifer, which has been renewed for a fifth season on Netflix, is on fire with its charismatic portrayal of the Prince of Darkness that only heightens the appeal of its procedural format. Stream it here (opens in new tab).
Mindhunter
As the aforementioned crime show Criminal Minds has demonstrated over 15 seasons, the best way to catch a criminal is to get inside their head. How did such a method develop, is the question that the exclusive Netflix crime show Mindhunter has spent two seasons so far explaining the answer to.
Holt McCallany and Jonathan Groff play FBI agents who collaborate on the development of the then-controversial method of psychological and criminal profiling through interviewing the infamous figures or true crime, such as Son of Sam or Charles Manson. David Fincher, the legendary director of thrillers such as Seven and Zodiac, takes the helm of several episodes Mindhunter: a bold exploration into the once unprecedented concept of thinking like a bad guy to fight and essential viewing for true crime junkies. Stream it here (opens in new tab).
Making A Murderer
Speaking of true crime junkies, everyone who had a Netflix account became obsessed with true crime when Netflix first released this highly acclaimed and highly controversial docuseries in 2015. A compilation of footage collected over the course of more than a decade, Making a Murderer follows the criminal record of Steven Avery, a man who spent years in prison for a sexual assault crime he did not commit, only to be accused of murder two years after his release.
The Emmy-winning crime show sets out, not only to inform viewers of the trial of Steven Avery and Brendan Dassey, but to make a case for his innocence and expose corruption within the United States criminal justice system. Making a Murderer is a gripping, thought-provoking, and often maddening story only made more intense by the fact that it is true and not over yet. Stream it here (opens in new tab).
Ripper Street
One of the most notorious criminals of all time is Jack the Ripper, who murdered several women, mostly prostitutes, in London in the later years of the 19th Century. You might infer that the BBC crime show Ripper Street depicts the years when the still-unidentified serial killer was at large, and you would be wrong, but the murderer still has a presence.
The crime show, with five seasons available, is set in 1889 East London after Jack the Ripper's killing spree has seemingly ended, as the police of the district of Whitechapel lives in the shadow of the mysterious figure's crimes, struggling to keep things in order in its aftermath. Ripper Street is an intriguing look into the state of criminal justice in the late 19th Century through the eyes of law enforcement haunted by their most fearsome enemy. Stream it here (opens in new tab).
Sherlock
The most iconic and classic image of a detective in fiction is that of Sir Arthur Conan Doyle's British private eye Sherlock Holmes. At one time, the most iconic and classic image of the famed investigator was a pipe-smoking chap in a deerstalker hat, until the world was introduced to Benedict Cumberbatch as the title role of the BBC series Sherlock.
Steven Moffat's reimagining of Doyle's work puts the detective, alongside his roommate and trusted aid Dr. John Watson (Martin Freeman), in modern times, as a crimefighter with a Twitter account who uses his rather impressive power of observation to solve mysteries, despite protests from New Scotland Yard. Sherlock is essentially four seasons (or "collections," if you will) or feature-length films that directly adapts Doyle's most acclaimed stories into this present-day crime show that is one of the most exquisite you will find on Netflix. Stream it here (opens in new tab).
Do you love our list of the best crime shows on Netflix, or do you think it's a crime? Let us know in the comments!
This poll is no longer available.
Your Daily Blend of Entertainment News
Jason has been writing since he was able to pick up a washable marker, with which he wrote his debut illustrated children's story, later transitioning to a short-lived comic book series and (very) amateur filmmaking before finally settling on pursuing a career in writing about movies in lieu of making them. Look for his name in just about any article related to Batman.
Your Daily Blend of Entertainment News
Thank you for signing up to CinemaBlend. You will receive a verification email shortly.
There was a problem. Please refresh the page and try again.