Torchwood's John Barrowman Is Headed To Scandal For A Guest Spot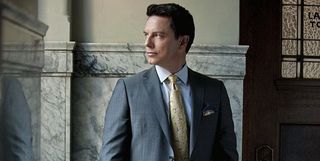 As though Scandal couldn't get any more watch-worthy, John Barrowman is set to guest star in an upcoming episode of the series' second season. The actor, who may be best known for playing the charismatic and brave Captain Jack Harkness in the Doctor Who spinoff Torchwood, will appear in an episode of the ABC drama series next month.
TVLine says Barrowman will appear in the episode set for May 9, but there are no details on who he's playing or how his character will fit into the story of the soapy drama. Will he be a client of Olivia's? Or perhaps someone at the White House and involved with the president's side of the story? We can only guess. It's probably too much to hope that he'll sing at some point, right? Yeah, somehow I don't see that fitting into an episode of Scandal. Regardless, as a fan of Scandal and Barrowman, I'm very excited about this news, and this is one more reason to look forward to more Scandal! As TVLine notes, Barrowman and Shonda Rhimes have a previous professional connection, as he was set to play a role in her period drama pilot Gilded Lilys, which didn't go to series.
In addition to Doctor Who and Torchwood, Barrowman's credits include Zero Dark Thirty, Desperate Housewives and the 2005 version of The Producers (starring Nathan Lane and Matthew Broderick). More recently, Arrow fans have seen him on the new CW series, playing Malcolm Merlyn.
Scandal is currently on another mini-hiatus, and is set for repeats until the next new episode airs April 25.