Treme's Michiel Huisman Will Co-Star In The Sixth Gun Pilot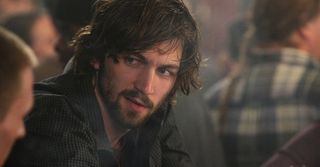 NBC has found it's rakish gunslinger for the supernatural Western pilot The Sixth Gun. Treme's Michiel Huisman has joined the project, which is based on a comic book and comes from Lost's Carlton Cuse.
The Sixth Gun was picked up among a bunch of other pilots at NBC back in January and the network embarked on a lengthy search for its leading man, according to Deadline. The fantastical project is about a mythical set of guns, each having its own special powers. The sixth and most powerful of these somehow lands in the hands of a young girl, an innocent farmer's daughter by the name of Becky (She's The Man's Laura Ramsey). Huisman will play the roguish Drake Sinclair, a man of questionable background and allegiance who believes the gun Becky has is the key to a great treasure. The description says a single gunfighter will stand in the way of those who want to take it from her, and although it's not clear if Drake is that gunfighter, it seems likely.
Huisman has appeared in a number of TV series in his native Netherlands, and over here he's known for Treme, as well as a run on ABC's freshman drama Nashville. On the film side, he will appear with Brad Pitt in the upcoming World War Z, and his previous credits include The Young Victoria.
The Sixth Gun is being adapted from the comic by newbie TV writer Ryan Condal and Friday Night Lights Jeffrey Reiner directs. Also cast for the project are The Hobbit's Graham McTavish, Red Widow's Pedro Pascal, Deadwood's W. Earl Brown, and Leverage's Aldis Hodge.
Your Daily Blend of Entertainment News
Thank you for signing up to CinemaBlend. You will receive a verification email shortly.
There was a problem. Please refresh the page and try again.