Trophy Wife Review: ABC's New Comedy Has Potential And A Great Cast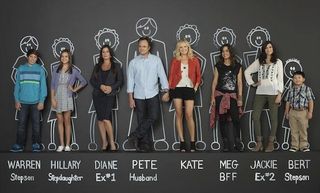 ABC seems intent on building on its family-focused comedy slate, and given the success of Modern Family, that's no surprise. Joining fellow newcomer comedy The Goldbergs on Tuesday night is Trophy Wife, a single camera comedy starring Malin Akerman as the third wife of Bradley Whitford character Pete, a man who comes with two ex-wives and three children from his previous marriages.
Created by Sarah Haskins and Emily Halpern, Trophy Wife begins with Kate (Akerman) wasted in the backseat of a car being driven by Diane (Marcia Gay Harden), Pete's first wife. How did she end up in this predicament? The first episode answers that question by going back to when Kate and Pete first met at a karaoke bar. Cut to a year after Kate and Pete are married, as Kate's trying to be a good stepmother to Pete's twin teens Hillary (Bailee Madison) and Warren (Ryan Lee). But without the motherly instinct that develops over years of parenting, she's got some catching up to do. A seasoned parent would probably know better than to tell a teenage girl how to sneak booze into a concert, for example.
Pete's third son is Bert (Albret Tsai), an adopted child who lives with Ex-wife number two, Jackie (Michaela Watkins). While ex-wife number one, Diane, is an overachieving, straight-laced doctor type, Jackie's a bit new agey, which makes me think Pete was looking for a woman that was anything like his first wife when he met Jackie. And then there's Kate, young, blonde and beautiful, and relatively care free with few attachments going into her relationship with Pete. Jackie, Diane and Kate definitely clash on paper, but given their differences, it could make for some interesting chemistry on screen. Unfortunately, there's so much going on in the first episode that I couldn't say for sure if that's the case just yet. But the potential for an interesting relationship between these three women is there.
And then there's Meg (Natalie Morales), who plays Kate's best friend, and the only apparent tie to Kate's former life. It seems like Meg could easily be phased out of Kate's life, given Kate's new responsibilities, but the pilot has Meg looking after little Bert, which suggests she's doing some adjusting herself in an effort to remain a part of Kate's life, even if it means subbing as a stepmom occasionally.
If Trophy Wife has two good things going for it out of the gate, it's a strong cast and a quirky blended-family premise. It's the potential of the series that has me interested in Trophy Wife beyond the pilot, rather than the pilot itself. I wasn't won over by the humor, which was tepid at best, or the numerous subplots, one of which seemed particularly cliche; Pete and Jackie scramble to replace their son's hamsters without him knowing what happened to the original pets. It seemed like an effort to show that Pete's still pretty actively involved in his ex-wives' lives through their children, but the subplot just felt like a distraction and it wasn't all that funny or original. What is funny is Akerman. She pulls off gorgeous and goofy all at once in the episode, striding confidently one minute and drunkenly devouring a popsicle the next.
With the overall set-up involving the various ex-wives, the kids, Kate and Pete, there's reason enough to believe Trophy Wife is one of those shows that will grow into its potential if given enough time to settle in. So while I wouldn't give the pilot episode top marks, it's not a disaster. Just a bit cluttered, but that's something that can be sorted out in time. What the pilot does offer is a glimmer of hope that there's a great story to be told about this blended family and the young new wife and stepmom trying to find her place among them. If it does, Trophy Wife could prove to be one of the more charming comedies on television. Time will tell.
Trophy Wife premieres Tuesday, September 24 at 9:30 p.m. ET on ABC.
Your Daily Blend of Entertainment News
Assistant Managing Editor
Kelly joined CinemaBlend as a freelance TV news writer in 2006 and went on to serve as the site's TV Editor before moving over to other roles on the site. At present, she's an Assistant Managing Editor who spends much of her time brainstorming and editing feature content on the site.