True Blood May Be Sinking Its Fangs Into Law & Order SVU's Chris Meloni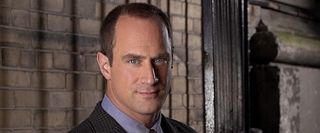 Chris Meloni's departure from Law & Order: SVU has left him available for other roles and this could be coming in the form of a role on HBO's True Blood for the vampire drama's fifth season. The part he's in talks for is apparently a "major" role in the series.
TVLine posted the news, stating that Meloni is "being courted" for a part in True Blood's fifth season. Nothing's been confirmed yet other than that he's circling a part that's considered a major role. TV Line's source says he's in talks to play an "incredibly powerful vampire." That's not all that difficult to believe, considering True Blood doesn't seem to have any shortage of those.
While Meloni is likely to be most recognizable for the hundreds of episodes of Law & Order: SVU that he's appeared in up until he left the series last spring, he's credited for a role in the upcoming Superman movie Man of Steel. However that's not slated to hit theaters until 2013, which means, should this deal go through, we'll be seeing him sooner than that (possibly sporting fangs) when True Blood returns next summer.
Your Daily Blend of Entertainment News
Thank you for signing up to CinemaBlend. You will receive a verification email shortly.
There was a problem. Please refresh the page and try again.