The Two Times Top Chef's Tom Colicchio Spat Out Food During The Competition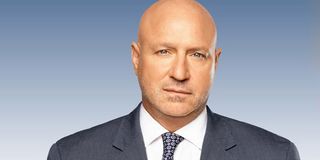 Top Chef is currently airing its thirteenth season on Bravo. A lot of the judges, including Tom Coliccchio, have been around from the beginning. Which means those same judges have tried a lot of really good food, along with some really bad food. In a recent interview, Tom Colicchio revealed there are only two instances where food was so terrible on the show that he actual spat it out.
Part of the gimmick of Top Chef is the contestants are asked to cook during some unusual circumstances. Like out in the desert when the weather is super hot. Sometimes challenges will require certain foods to be included or certain cooking utensils to be used. During one memorable challenge, contestants were given bikes and clues to go hunt down certain ingredients for dishes. It's not the easiest environment for cooking, certainly. But those who manage to thrive generally are able to figure out the difficulties of the crazy challenges and work around them. And then, there's the food that has to be spat out.
The story Tom Colicchio told THR comes from Season 6. That year, contestant Mattin Noblia was competing against Mike Isabella, the Voltaggio brothers and some other stiff competition when he was asked to cook out in the desert. He ultimately chose to make a ceviche and defended the dish when he was criticized for it. Tom walked away, on camera, and got rid of the bite before he was forced to swallow it. In case you are wondering, he did go home for this dish.
Obviously not every contestant on Top Chef is made equal. You would think if you were forced to cook in 110 degree weather you would probably try to cook a dish rather than attempt to serve something cold, but clearly that's not always the way people think under pressure. Honestly the other "warm clam" dish sounds even worse than the room temperature fish, but they were both bad enough that Tom Colicchio spat them out rather than trying to ingest them.
Anyone who has watched any of the seasons of Top Chef should already know that Tom is one of the toughest critics on the show. Even when the other judges are gushing over a contestant's dish, he'll often at least have a small note for that contestant. This is why getting a "well done" from Tom Colicchio is always pretty impressive.
But as critical as Tom, Gail, Padma and the other judges can be, spitting something out is taking thing to a whole different level, one that's not seen that often on Bravo's reality competition show. Usually even if food is too spicy or is visually unappealing, the judges eat it anyway. If risotto is underdone or meat is overcooked, the judges still consume it. As a contestant, you would literally have to make something incredibly unpalatable for the judges to opt not to swallow it.
If you'd like to tune in for more recent drama on Top Chef, new episodes air on Bravo on Thursday nights at 9 p.m. ET. In addition, the series has already been renewed for Season 14.
Amazing Race & Top Chef superfan with a pinch of Disney fairy dust thrown in. If you've created a rom-com I've probably watched it.
Your Daily Blend of Entertainment News
Thank you for signing up to CinemaBlend. You will receive a verification email shortly.
There was a problem. Please refresh the page and try again.