Top Chef: Former Contestant Says Show Ruined His Life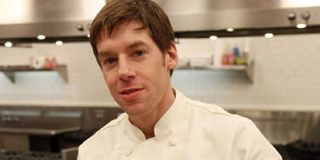 Recently, we brought you a story from a Biggest Loser contestant who spoke out about the mistreatment she felt on the set of the reality show. This week, a Top Chef: Just Desserts competitor has arisen from the fray to explain his experiences on the first season of Bravo's hit show. In short, he says it was a disaster that ruined his life, put him in the psych ward, put another woman in the hospital and made him unemployable.
Early on in the filming of the series, contestant Seth Caro says he and his fellow contestants were riding around on a bus, when an overpass caused problems for a cameraperson and the camera struck a female cast member in the face.
He's talking about Heather Chittum--now Chittum-Roth--a contestant who appeared in the first season of Top Chef: Just Desserts who was eliminated during round 3 of the competition, but competed, despite having to deal with a head injury. Caro also went on to explain that contestants were treated improperly, having to deal with the whims of the production crew. He tells the NY Post the lack of sleep and the quiet on the set during breaks in filming got to him, calling it "cruel."
It sounds like a nightmare, but no one ever said appearing on a reality competition series was easy. In fact, Caro's story needs to be taken with a grain of salt. The contestant actually left Top Chef: Just Desserts after having more than one crazy emotional moment on the show. The following is not the first or last time he had a meltdown on the program, and honestly, it looks those around him did what they could to help the young man while he dealt with the rigors of the competition.
Following leaving the series, Caro spent three days as an involuntary inpatient in a mental hospital. He also says he has had trouble finding a culinary position ever since. As for the woman who was hit on the head? She actually returned to the competition after Seth left the show, appearing on two more episodes before being eliminated a second time on the series.
So, while the majority of former contestants seem to be very supporting of Bravo's Top Chef shows and credit them with post-appearance career growth, it's clear reality competition shows can be a very stressful environment. Some people don't enjoy their experiences nearly as well. In fact, Caro truly seems to believe the experience ruined his life, but then again, life is rarely that simple. So, exactly how much of a role the show really played in his personal life problems is impossible to discern.
Reality TV fan with a pinch of Disney fairy dust thrown in. Theme park junkie. If you've created a rom-com I've probably watched it.
Your Daily Blend of Entertainment News
Thank you for signing up to CinemaBlend. You will receive a verification email shortly.
There was a problem. Please refresh the page and try again.