Up All Night's Proposed Changes Include A Bizarre Portal Twist And A Show About A Show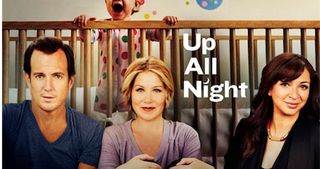 The situation for NBC's Up All Night has never been especially great. In fact, when you review the history of the series and the changes it's undergone since before it even premiered, the state of what's left of the comedy, which has not technically been cancelled yet, is a bit easier to understand. Some shows have the plug pulled much too soon, however in the case of Up All Night, if and when the show is officially shut down, it can't really be argued that enough effort wasn't made to save this series. But were the right steps taken? That's debatable.
TV Guide posted an extensive piece on the history of Emily Spivey's comedy, which starred Christina Applegate, Will Arnett and Maya Rudolph. The site rehashes the changes the project underwent when it was still in development, including how Bridesmaids's success prompted producer Lorne Michaels and NBC to push more emphasis on Maya Rudolph, which resulted in the original plot being adjusted, turning Rudolph's character from being Reagan's public relations boss to an Oprah-esque talk show host. That shift, which included some other adjustments to Reagan's work situation, is just one change that the series has undergone since its creation. Changes among the executive producers prompted more alterations to the tone and direction of the show.
We've heard of more drastic shifts this year, since the announcement that the series was being re-worked as a multi-camera comedy, with the exit of creator Emily Spivey, which was followed by the exit of series star Christina Applegate. The multi-camera episode order was cut down to just one episode, and TV Guide says the script set up to explain the changed structure of the show had Applegate, Arnett and Rudolph all playing actors who star in a fictional show called Up All Night. In this show-about-a-show, Arnett's character lives at home with his mother, Applegate's character is dating, and Rudolph's pregnancy would be worked into the storyline, which included a "who's the daddy?" twist. That may sound weird, but it's practically tame by comparison to one of the other reported pitches, which "placed a portal between the two worlds — the single-cam and multi-cam versions — that only baby Amy could see."
Applegate has since left the series, and though Lisa Kudrow was rumored to be in the running to replace her, she reportedly said no and no one else has been approached since. The lone multi-camera episode, which would have been in consideration as a pilot for next fall, was never shot.
At this point, the situation isn't looking good for the show, but that's not news. Applegate is out, and Rudolph and Arnett have their eyes on other projects. Arnett has been cast to star in Greg Garcia's CBS comedy pilot. On one hand, reading through TV Guide's breakdown of the evolution of the series, it seems like steps have continuously been taken to try to get the show on track. And considering the excellent cast, it's not surprising that a lot of effort would be put into trying to keep this show afloat. But were the right steps taken? Given the state of the series right now, it doesn't appear so, and it makes me wonder how things might have gone for the comedy if the original concept had been kept intact from the beginning.
Kelly joined CinemaBlend as a freelance TV news writer in 2006 and went on to serve as the site's TV Editor before moving over to other roles on the site. At present, she's an Assistant Managing Editor who spends much of her time brainstorming and editing feature content on the site.
Your Daily Blend of Entertainment News
Thank you for signing up to CinemaBlend. You will receive a verification email shortly.
There was a problem. Please refresh the page and try again.