Veep Preview: Invitation To The Set Featurette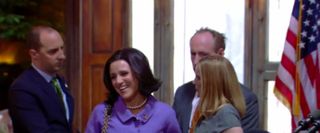 HBO's Veep is the new show from award winning showrunner Armando Iannucci. As the title kind of suggests, the series will follow the exploits of the Vice President and her close circle of spinsters. The writer/director is no stranger to finding humor in the political wining multiple BAFTAs for his hilarious BBC series The Thick of It which explored various levels of British Parliament.
Iannucci followed that up with the feature film spin-off, In The Loop, which was not only nominated for an Academy Award for Best Adapted Screenplay but also found the comedian dipping his toe into the American bureaucracy. Now set to solely tackle the American government, specifically the odd and interesting office of the Vice President, Iannucci and HBO invite us behind the scenes to the set of Veep.
This featurette, like the teaser that came before it, doesn't reveal anything from the actual show but it does an excellent job of showcasing the great ensemble as well as the fluid and improvisational filmmaking style so familiar from Iannucci's other work. I love the theater inspired method of shooting where the cast is forced to constantly be 'on' because the camera could turn on them at any moment. The freedom - thanks to the lighting and handheld cameras - not only creates a sense of real life but a great manic pace that adds to the irreverent comedy. Now, if we could just see some actual footage from the series.
Veep premieres on Sunday, April 22 on HBO. It stars Julia Louis Dreyfus, Matt Walsh, Tony Hale, Anna Chlumsky, Sufe Bradshaw, Tim Simons and Reid Scott. It was created by Armando Iannucci.
Your Daily Blend of Entertainment News
Thank you for signing up to CinemaBlend. You will receive a verification email shortly.
There was a problem. Please refresh the page and try again.