The Walking Dead Season 3 Finale Ratings Set A New Series Record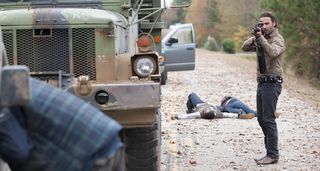 Never mind that it was Easter Sunday, or that The Walking Dead was going up against the season premiere of Game of Thrones and a number of other Sunday night shows, the zombie drama still managed to come out on top and bring in its best ratings yet with its third season finale.
EW reports that last night's Season 3 closer, titled "Welcome to the Tombs," brought in 12.4 million viewers, topping its mid-season premiere back in February, which brought in 12.3 million viewers and previously held the record for the most-viewed episode of the AMC series to date. Not only did The Walking Dead set a new record for itself, but it also earned 8.1 million adults 18-49, making it the week's top program.
Whether or not you enjoyed the finale, it's still certainly worth celebrating the series' continued success, especially when we consider that the series debut to a "meager" 5.35 million viewers in 2010 - a high number for a cable drama, but less than half of the viewership the show is bringing in each week in its third season. The show began with a pre-built fan base of those zombie fanatics who love Robert Kirkman's comics, on which the series is based, but the buzz the series has generated, added to accessibility to past episodes, between DVD, streaming video sites like Netflix, and AMC's marathons have likely contributed to the show's continuously growing audience.
The Walking Dead wasn't the only genre show to have a good night. This news follows word that HBO's fantasy drama series Game of Thrones' third season premiere brought in 6.7 million total viewers, when factoring in the initial premiere and later airings of the episode. While 6.7 million (or 4.4 million, if we're only including the first airing) falls noticeably short of The Walking Dead's numbers, it's hard to fairly compare the two shows on ratings alone, considering The Walking Dead airs on a cable channel, which is likely to be accessible to more people than those who subscribe to HBO, a premium cable channel. As a fan of genre shows, it's great to see both series performing as well as they deserve.
Read our breakdown of The Walking Dead's Season 3 finale here.