The Walking Dead Showcases Terminus And A Terrifying Tunnel At Comic-Con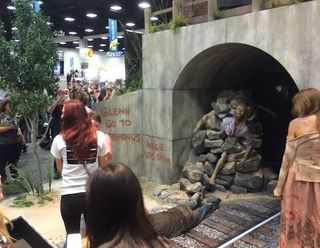 When it comes to show floor displays at San Diego Comic-Con, The Walking Dead can usually be relied on to provide a pretty fantastic zombie-filled display and this year is no exception. We passed by the booth during Preview night and grabbed some photos of the set-up. As you can see in the image above, the train-track tunnel featured in the fourth season of The Walking Dead inspired part of the display, and fans were lined up to get their photo taken in front of the tunnel.
Over on the left of the display, there are the painted words, "Glenn Go To Terminus, Maggie, Bob, Sasha." And then there's the pile of debris with a partially buried walker. There were also walkers lingering on the tracks for photos…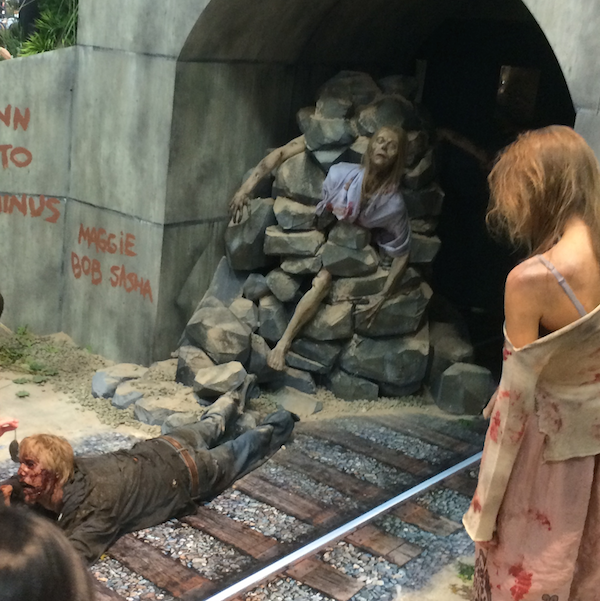 And then around the corner from the tunnel was a "TERMINUS" wall, with a couple of fenced in walkers…
The booth is just one bit of zombie fun at Comic-Con for The Walking Dead fans. There's also the panel to anticipate. The AMC drama's SDCC panel is set to take place in Hall H again this year. Andrew Lincoln, Norman Reedus, Steven Yeun, Lauren Cohan, Danai Gurira, Melissa McBride, Chad Coleman and Michael Cudlitz are all expected to appear during the panel. We're hoping to see some footage from the anticipated fifth season, which is set to debut in October.
Image 1 of 5