Watch Conan Impersonate Cam Newton's Super Bowl Press Conference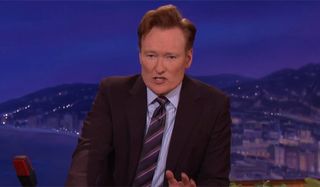 This weekend, Super Bowl 50 went off with only a few audio hitches on CBS. Just like any other big game, the outcome was far more favorable for one team than the other. However, after losing, Carolina Panthers quarterback Cam Newton wasn't particularly gracious in regards to his team's loss, and his hoodie and curt responses have made him a target for comedians everywhere. In fact, Conan O'Brien even impersonated the famous quarterback during last night's episode. You can check out the amusing segment, below.
In case you didn't see a hoodie-wearing Cam Newton mumble "we just got outplayed" in front of a slew of reporters, Conan graciously leads into his bit by showing some of the footage of the player, who eventually just walked away from the interview session. That's a different Cam Newton than fans had seen throughout the season, and Conan turns the whole thing into a bad joke, calling Cam "Fig Newton." It doesn't really make sense, but it does lead to Conan O'Brien dressing up like the quarterback after the game and joking about how his joke was also a failure.
It's a pretty accurate spoof, if we do say so ourselves:
Heading into the Super Bowl, the Carolina Panthers were the heavy favorites. After going 15-1 during the regular season, many fans and those creating odds in Vegas picked Cam Newton and company to roll through Denver. Riding a historically great defense, however, the Denver Broncos jumped out to an early lead and never looked back. The Panthers kept pounding, if you will, but they never felt totally in the game.
No one, of course, was more devastated than Cam Newton himself. He later went so far as to admit he is a sore loser, although it's pretty clear from the interview coverage that people knew that well before he straight-up admitted it. I guess that's the downside to rooting for a quarterback that wears his emotions on his sleeve. It might be all victory dances and goofy interviews when they're winning, but when things go unexpectedly south, you're going to see hurt and raw emotions on the face of the quarterback.
Fortunately for the Carolina Panthers, Cam Newton is just entering his prime, and they should have plenty more shots at the Super Bowl. Depending on the outcomes of those future games, Conan O'Brien may have plenty more opportunities for spoofs too.
Conan airs on weeknights, only on TBS.
Reality TV fan with a pinch of Disney fairy dust thrown in. Theme park junkie. If you've created a rom-com I've probably watched it.
Your Daily Blend of Entertainment News
Thank you for signing up to CinemaBlend. You will receive a verification email shortly.
There was a problem. Please refresh the page and try again.