Watch Jimmy Fallon's Perfect Charlie Sheen Impression And Fake Cologne Ad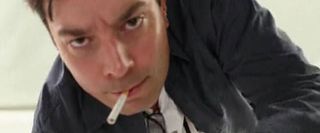 Jimmy Fallon was never known for his spot-on impressions in his time on SNL, or for anything really except cracking up constantly, but since he's been hosting his late-night show he's been able to show off some of his best impressions, and they really work. First there was the "Whip My Hair"-singing, Bruce Springsteen-dueting Neil Young that took the Internet by storm. Now prepare for Fallon as Charlie Sheen-- Charlie Sheen promoting his new cologne, "Winning."
Yes, the cologne idea is mostly just worth a chuckle, but it's the dead-on impression that sells it. Fallon still looks like himself, of course, but with the hair mussed just right and Charlie Sheen's defensive, totally crazy vocal tics in place, it's kind of eerie. Of course if you're not caught up on the Charlie Sheen publicity crazy train of the last few days you won't get half the jokes, so catch up here if you need it. Otherwise just appreciate what Jimmy Fallon has brought us this fine day-- and cross your fingers he'll repeat the trick on SNL this weekend. Bill Hader is a master impressionist, but it's hard to imagine even him topping this.
Your Daily Blend of Entertainment News
Staff Writer at CinemaBlend