Watch Nick Offerman Tell His Own Hilarious Version Of Twas The Night Before Christmas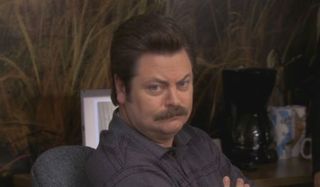 When Nick Offerman enters a room, magic happens. And this time was no different as he visited Jimmy Fallon on NBC's The Tonight Show. As the show comes to a close, Fallon recalls one of his favorite Christmas stories, "Twas the Night Before Christmas", but with little time he hands it over to Nick Offerman to recite a "shortened, more casual version." Watch it hilariously unfold below:
While Nick Offerman and Ron Swanson (his character in Parks and Recreation) seem pretty interchangeable, I can totally imagine seeing Ron do a monologue of this version of the Christmas tale on his NBC show. It is very minimal, and matter-of-fact, but the delivery is flawless. Here it is written out, so you can start memorizing it and pass it down to future generations:
As you repeat the verse to others, make sure to keep in true Offerman fashion, with extra sarcasm, and emphasis on the curse words. His version is quite fitting to the character of Ron Swanson too, who isn't the biggest fan of the holidays, especially gift giving.
Ron insists that he despises thoughtfulness, but Leslie Knope always outdoes herself with gift giving, when it comes to all of her friends. When Ron's birthday came around, Leslie gave him a better present than even he could come up with—absolute quiet, a thick steak, whiskey, and his favorite movies.
So this year, as Christmas comes around, celebrate as Ron Swanson/Nick Offerman would. With a nice bottle of whiskey, a really quiet house that you can't even hear rodents like mice crawling around in, and a big juicy steak. And after Christmas, be sure to tune in to the final season of Parks and Recreation beginning Tuesday, January 13, 2015 at 8 p.m. ET.
Your Daily Blend of Entertainment News
Thank you for signing up to CinemaBlend. You will receive a verification email shortly.
There was a problem. Please refresh the page and try again.