Watch Ryan Gosling Demand To Meet Santa On Saturday Night Live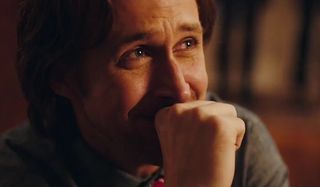 Christmas can elicit a powerful response from people; for those of us who have perhaps gone through some bad times, the holidays and the idea of Santa can provide a sense of relief and solace. However, there are perhaps some people who take that idea too far – way too far. Ryan Gosling hosted Saturday Night Live last night, and one of the show's best sketches involved him and Vanessa Bayer portraying a couple who have a downright psychotic obsession with the jolly fat man in red. Check out the sketch below:
"Santa Baby" starts of innocent enough at a small, wholesome neighborhood Christmas party. Doug (Gosling) and Gina (Bayer) have just moved into town and are trying to make a good impression with their new neighbors, and it's quire clear that they have a deep-seated loved for the holidays. What begins as a seemingly sarcastic insistence in the existence of Santa Claus soon turns violent as the couple continuously asks when St. Nick will be showing up. Their instability only increases as they express an intense desire to thank the Christmas icon for bringing Doug presents until his parents left at a very young age.
Things soon turn violent and Doug effectively holds the entire party hostage with a shattered, jagged candy cane decoration. In a desperate attempt to diffuse the situation, the host of the party comes downstairs dressed as Santa, leading Gina to seductively ask him for a Cuisinart while Doug's eyes well up with joyful tears. While Gosling and Bayer most certainly dominate the scene with their manic energy, the rest of the ensemble makes it even funnier with their simultaneoulsy awkward and terrified reactions to Doug and Gina's actions.
This sketch – which appears to be a take on the 1994 thriller Natural Born Killers – continues to uphold the fairly widely held belief that SNL's pre-shot short films represent some of the highest quality work that the NBC series currently produces. Joining the ranks of the Adele "Hello" sketch from Thanksgiving week – which proved wildly successful with audiences – these miniature films allow the actors to use many more tools and tricks that they normally wouldn't have during a live sketch, resulting in more variety and flexibility. During the show's 40th anniversary special, even stand up great Louis C.K. made the bold statement that Saturday Night Live's digital shorts are in fact the best things about the series these days; after "Santa Baby" we have a hard time arguing with him.
If you ever find yourself concerned over just how into the holidays you get, at least you are not Doug and Gina. We would say that's probably the biggest takeaway from this whole thing. For those of you who haven't watched the sketch above, do yourself a favor and check it out; you won't be disappointed.
Originally from Connecticut, Conner grew up in San Diego and graduated from Chapman University in 2014. He now lives in Los Angeles working in and around the entertainment industry and can mostly be found binging horror movies and chugging coffee.
Your Daily Blend of Entertainment News
Thank you for signing up to CinemaBlend. You will receive a verification email shortly.
There was a problem. Please refresh the page and try again.