Watch SNL Introduce Men To Their Future Second Wives In Hilarious Game Show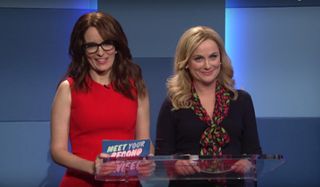 It's been quite a while since Saturday Night Live had the guts to produce a hilarious sketch that absolutely pushes the envelope. If you're an avid viewer who longs for the days in which the show would walk the lines of good taste, then wait no longer. Tina Fey and Amy Poehler hosted the show last night, and took part in a sketch that does all of that and more. Check it out below.
The sketch uses a format that any fan of SNL will instantly recognize: a game show. Everything starts off innocent enough, with three male contestants standing at their podiums waiting for the game to begin. Soon, hosts Poehler and Fey reveal the nature of the show: meet your future second wife. The men claim to be happily married, but the hosts of the show have the unexplained ability to look into the future and see that for a variety of reasons, the men will all one day remarry.
One by one the future second wives are brought out; the oldest is twelve, and they get younger until the final contestants future wife is an unborn baby. With an almost sadistic sense of glee, Fey and Poehler continually take turns poking fun at a number of dark topics ranging from divorce, death of a spouse, to the effect that a father marrying a younger woman will have on the relationship with his own children.
Despite the fact that the sketch is well written, and uses just the right amount of shock value to get laughs out of the audience, not everyone who saw it last night is laughing. Plenty of people commented on the video's humor, but numerous others have condemned the sketch, with some even claiming it encourages pedophilia. We're not going to go so far as to agree with that opinion, but we fully embrace the fact that the sketch finally brings Saturday Night Live back to its traditionally shocking roots.
If you haven't watched the video above, do yourself a favor and check it out. It's most certainly not a segment for people in the audience that possess a thin skin, but then again some of the best Saturday Night Live sketches of all time became legendary for pushing boundaries at every turn. If nothing else, this sketch proves one thing: Tina Fey and Amy Poehler are comedic forces to be reckoned with, and we miss their weekly presence on the NBC sketch comedy series. For now you can get your fix by checking the comedic duo out in their new movie Sisters, which is currently in theaters.
Originally from Connecticut, Conner grew up in San Diego and graduated from Chapman University in 2014. He now lives in Los Angeles working in and around the entertainment industry and can mostly be found binging horror movies and chugging coffee.
Your Daily Blend of Entertainment News
Thank you for signing up to CinemaBlend. You will receive a verification email shortly.
There was a problem. Please refresh the page and try again.