Watch SNL Slam The TV Industry In This Brilliant Sketch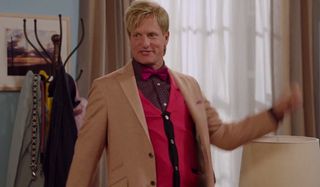 With The Hunger Games' Woody Harrelson on board to host, SNL was pretty topical over the weekend. Chief among these was "The Dudleys," a brand new sketch looking at the state of sitcoms on network television, as well as the effects social media has had on TV. It's funny, to boot! You can check it out, below.
The sketch looks at a traditional TV sitcom called "The Dudleys," a show that originally stars an all American—and extremely white—family, composed of Kate McKinnon, Beck Bennett, two cute little girls and a golden retriever. But as Twitter blows up against the series, criticizing various aspects of the show, the network begins making changes that totally shake the foundations of the TV show. They add a gay dad, a black character, a kid in the Army and Orange is the New Black's Crazy Eyes to round out a cast that is diverse and feels real to those who are berating it on social media.
However, not everyone appreciates "The Dudleys'" lineup changes. There are a whole slew of individuals responding via the U.S. postal service that also want to have their say, leading the network to have to make some tough decisions about its modern-era sitcom. Will the first or second versions of "The Dudleys" win out?
Guest host Woody Harrelson really gives it his all in the bit, which is a clever parody of what network TV sitcoms are often going through when they pitch a sitcom these days. It's also totally different than the other sketches present during the episode, which include a lot of characters hanging out in bars and talking about drug use. There's even a sketch poking fun at New York's new marijuana laws, which allow people to carry pot on their person—although it doesn't allow them to smoke in public. You can catch that bit, here.
The problems with sitcoms may be parodied in the sketch, but sitcoms have had a pretty tough fall so far. Sitcoms based on gimmicks, like ABC's Manhattan Love Story and NBC's A to Z have already been cancelled. Additionally, NBC has also cut Bad Judge from the lineup, ABC has dropped Selfie, CBS has killed its second season series The Millers and Fox's Mulaney is barely hanging on to its Sunday night slot. Social media is making reactions to new shows rather vicious, and it's showing on Twitter, in the ratings and via the network's own decisions about how to push new half-hour programs forward. It's certainly not a landscape I would want to be working in right now.
If you are a fan of the sketch, you can check out more from Woody Harrelson's big hosting stint on SNL over at Hulu. New episodes of Saturday Night Live air on NBC at 11:30 p.m. ET.
Amazing Race & Top Chef superfan with a pinch of Disney fairy dust thrown in. If you've created a rom-com I've probably watched it.