Watch Supernatural From The Beginning On TNT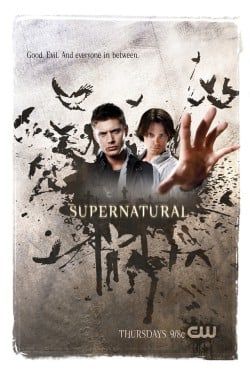 If you missed out on the beginning of the Winchester brothers' journey when Supernatural premiered five seasons ago on The WB, you're in luck. As we rocket toward the culmination of creator Eric Kripke's first five-year story arc on The CW, TNT has picked up the rights to air the repeats of the series from the beginning.
Starting January 4, 2010 at 10 PM, and every weeknight thereafter, you can witness the beginnings of a battle against the demonic forces of Hell, and that's just for starters. It's certainly more bang for your entertainment buck than new episodes of The Jay Leno Show.
Everything that makes horror great: monsters, suspense, comedy and sex appeal, can be found in every episode of Supernatural, and now you don't even have to fork over any hard earned cash to see them.
Here's how things get started:
Monday, January 4 - Pilot
Tuesday, January 5 - Wendigo
Wednesday, January 6 - Dead in the Water
Thursday, January 7 - Phantom Traveler
Friday, January 8 - Bloody Mary
Monday, January 11 - Skin
Tuesday, January 12 - Hook Man
Wednesday, January 13 - Bugs
Thursday, January 14 - Home
Friday, January 15 - Asylum
Monday, January 18 - Scarecrow
Tuesday, January 19 - Faith
Wednesday, January 20 - Route 666
Thursday, January 21 - Nightmare
Friday, January 22 - Benders, The
Monday, January 25 - Shadow
Tuesday, January 26 - Hell House
Wednesday, January 27 - Something Wicked
Thursday, January 28 - Provenance
Friday, January 29 - Dead Man's Blood
They've also put together some of the more enjoyable episodes over the years together for a special 10-hour marathon on Monday, February 15, 2010. Unfortunately, this season's "trapped in TV" installment is still too new to make the cut. The episodes that did make it, though, are:
9:00 AM - Tall Tales
10:00 AM - Hollywood Babylon
11:00 AM - Folsom Prison Blues
12:00 PM - Bad Day at Black Rock
1:00 PM - Mystery Spot
2:00 PM - Monster Movie
3:00 PM - Yellow Fever
4:00 PM - Criss Angel is a Douchebag
5:00 PM - After School Special
6:00 PM - The Monster at the End of This Book
Your Daily Blend of Entertainment News