Watch Walter White Go Up Against Rick Grimes In The Latest Epic Rap Battle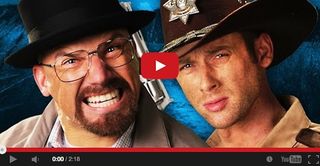 Video contains adult language and mild spoilers about Breaking Bad and The Walking Dead.
Epic Rap Battle put two AMC protagonists up against each other today, and in a battle of The Walking Dead's Rick Grimes and Breaking Bad's Walter White, I think the one who knocks may have come out on top. In all fairness though, Walter White had an extra season to develop his badassery, whereas Rick Grimes is still getting there. The Season 4 finale of the zombie drama did demonstrate Rick's hardcore toughness, but is that enough to compensate for the seasons when Rick was trying to be the good guy in a bad world? Based on the approach "Walter White" took in the above rap battle, it seems like Rick has a fair amount of ground to cover in terms of his tough side, anyway. On character, Rick might be the better man by comparison to the cutthroat Walter White. But nice guys finish last in a rap battle.
Rick may come from a rougher world, but Walter White's a science genius who -- at least in the later seasons -- proves he's got the chops to dominate any given situation. I'd actually kind of love to see what kind of zombie apocalyptic survivor Walter White would be. As for the rap battle, Walter White tops it all off with a burn about Lori and Shane's relationship: "No one saw Shane coming, except for your wife." Dated, ok, but points for cruelty.
For those unfamiliar with ERB, the YouTube Channel takes various characters from history, whether they be historical or pop culture references, and pits them against one another to see who's superior. Previous installments have included Mitt Romney vs. Barack Obama, Moses vs. Santa Claus (featuring Snoop Dogg) and this one, which has Key & Peele stars Keegan-Michael Key and Jordan Peele playing Gandhi and Martin Luther King Jr.
There's also this one, which puts Doc Brown up against Doctor Who:
I think a reprise of Walter White and Rick Grimes should after a couple more seasons of The Walking Dead have played out. Based on how The Walking Dead left off, it feels like Rick is on the brink of a new level of toughness. He's proven to be more ready to do what needs to be done these days than he once was, at the very least.
Your Daily Blend of Entertainment News
Thank you for signing up to CinemaBlend. You will receive a verification email shortly.
There was a problem. Please refresh the page and try again.