Why Wait? See Conan Now -- Well, Next Month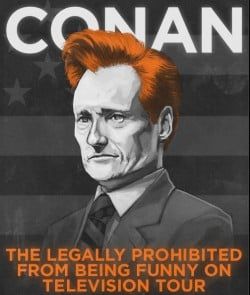 Not enjoying The Tonight Show with Jay Leno? Wishing Conan O'Brien were still there, or anywhere on your television? Well, nobody can do anything about that until September (pesky contracts), but you can still see Coco as soon as next month. Starting April 12 and running through June 14, O'Brien will be on a 30 city live tour.
Of course, by "30 city" they really mean a 22 city tour because he doubles up events in some of the bigger ones. The official website at TeamCoco.com describes the event, dubbed The Legally Prohibited From Being Funny on Television Tour, as "a night of music, comedy, hugging, and the occasional awkward silence" -- wait a minute! Doesn't Craig Ferguson have the copyright on awkward silences?
It's a great idea for Conan to keep himself in the public eye, and in the press during these television dark months for him, as he gears up for what will inevitably be a return to the airwaves somewhere come September 2010. By the time this tour wraps in June, there's a decent chance word will be out, either officially or speculatively, on what his next move is (*ahem* FOX *ahem*). Meanwhile, he can take himself on the road to stay fresh and ready to conquer late night ... or come in second or third. Really, who knows what will happen.
At this rate, though, in another decade, we'll have Jimmy Fallon on a late night show on The CW after he gets screwed out of The Tonight Show job.
Your Daily Blend of Entertainment News
Your Daily Blend of Entertainment News
Thank you for signing up to CinemaBlend. You will receive a verification email shortly.
There was a problem. Please refresh the page and try again.