Workaholics 2013 Comic-Con Panel Recap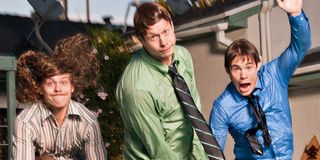 In the few years I've covered Comic Con, I don't think I've ever seen a panel as raucous and funny as the Workaholics panel. This year marks the second appearance for the Comedy Central hit series at SDCC and, after easily filling a smaller room last year, the boys were bumped to the Indigo Ballroom. And they had no trouble packing the house or bringing it down. Sorry.
I should have known things would get rowdy before the event even began but I knew we were in for something a little unorthodox when Tom Green turned up to moderate. "My bum is on the cheese, my bum is one the cheese." Green showed up last season on the comedy as a cyborg so his inclusion in the proceedings wasn't entirely out of the blue and he turned out to be a great hype man. After working the crowd into a frenzy by screaming 'make some noise,' Green then introduced the stars, co-creators, writers, and executive producers Blake Anderson, Adam Devine, Anders Holm and Kyle Newacheck.
The excitement didn't let up when the boys hit the stage, the four of them working the crowd like superstars. Devine then let slip how their first choice to moderate the panel was porn star Lisa Ann but she turned them down forcing them to go with Green instead. They also wanted to give a shout out to sandwiches and inform the crowd that instead of pinching themselves to see if Workaholics success was real, they pinch each other at night. Late at night.
Green's question continued in a similar vein, asking the boys do explain the origin of 'tight buttholes' to which Devine quickly called back his Lisa Ann joke. The real story is much less exciting but still worth sharing. After realizing that 'tits' was arbitrarily made into another word for cool, they figured that they could literally say anything to express the same sentiment, hence the tight buttholes. A lot of their material comes about the same way, with the four of them just 'Joshua-ing' around in the writers room. Even with the increased budget thanks to the shows success they have been able to do more but they always 'attack' the comedy the same way as they did making YouTube shorts together in their house.
As for some sneak peeks at next season, no footage was shown (it's a ways off) and the boys stayed tight-lipped, only adding that they might almost get laid. Might as well cast some hot chicks to have around the set. Oh, and Denzel and Jamie Foxx are set to appear but I think they were Joshua-ing. Things also got personal with Blake sharing the story of how he broke his back (with Adam adding how terrible a friend he is, suggesting that his roommate simply sleep it off) and the tragic loss of Jetset. They discussed how the man from the 'future-past' was first cast on the show as well as their gut feelings when he didn't show up for the last day of shooting. Blake and Ders looked close to tears before Adam broke the tension by yelling that the question really killed the mood.
It didn't take long for them to have the room back in stitches though, first with Blake stealing a phrase from the audience (a 'sneak phrase') before Ders broke out in a little fiery freestyle rap. He tried to pass the mic but the other boys didn't want it. They also quickly shared what it was like to guest on The Mindy Project and Arrested Development ('totally kick-ass awesome) before Blake and Adam got into a heated argument. The tiff about Adam being an attention hog resulted in the two Workaholics walking off stage only to return for a reconciliation ballad. Yep, they broke out in song. Twice.
They really know how to work a crowd and with charisma like that, I'd expect to see a lot more from Adam, Blake and the Ders. Maybe something like an action comedy written and starring them, produced by Seth Rogen and Evan Goldberg. Until then, catch the boys back on Comedy Central when Workaholics returns for Season 4 next year.
Your Daily Blend of Entertainment News
Thank you for signing up to CinemaBlend. You will receive a verification email shortly.
There was a problem. Please refresh the page and try again.