Workaholics Cast Writing An Action Comedy Screenplay For Seth Rogen And Evan Goldberg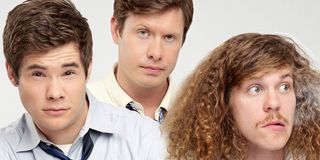 The guys who star in Workaholics aren't exactly household names, but they're slowly getting there, and in the middle of their Comic-Con panel today they revealed what that next step might be. Answering a fan question about their future projects, the guys-- that's Blake Anderson, Adam DeVine and Anders Holm-- revealed that they are working together on an action comedy script that all three would also star in. And this isn't the kind of thing where you and your buddies get together to bang out a screenplay for fun. They've got Seth Rogen and Evan Goldberg on board to produce along with Scott Rudin, one of the most powerful and prolific producers currently working.
Rudin is the force behind recent Oscar nominees like There Will Be Blood and The Social Network with a ridiculous diverse resume, from The Addams Family and Sister Act back in the 90s to this year's Frances Ha and the Coen Brothers' upcoming Inside Llewyn Davis. So while it's tempting to say we didn't exactly expect him to back a project from the Workaholics guys, the guy seems to live for the element of surprise. So far as we know this script hasn't been officially announced before, and even though DeVine was a member of the breakout cast of Pitch Perfect, none of the guys seem to have any higher profile projects in the future. Does that mean we can hope to see this one going soon?
Eh, don't get too excited-- promising comedians are handed development deals pretty often, and there's no guarantee that what the Workaholics guys come up with will be seen as a viable movie by Rudin or anyone else who would pony up the cash. But if you're a Workaholics fan, know that powerful people in Hollywood are fans with you… and if we're lucky, we'll see the trio stick together for something bigger and more action-packed than we've seen them do before.
Your Daily Blend of Entertainment News
Staff Writer at CinemaBlend