Are You Being Served's Frank Thornton Dead At 92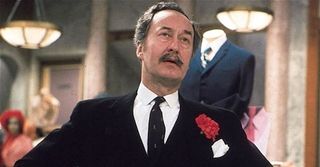 A legend of British television has passed away. Frank Thornton, whose role as Captain Peacock on the BBC's hit Are You Being Served made him a star on both sides of the Atlantic, has died in his sleep at the age of 92. His illustrious career definitely earns him a place in TV history.
Thornton started his career on the BBC in 1950, making his among the longest-lasting television careers around. In 1972 he took on the role of Captain Peacock, a floorwalker at the Grace Brothers department store who regularly exaggerated his role in WWII. The hit series ran through 1982 and spawned both a movie by the same name and a reboot in the 90s known as Grace and Favour as well as by the title Are You Being Served? Again! , both of which allowed him to reprise his role. From 1997 through 2010, Thornton starred in Last of the Summer Wine, and his final role was in the comedy Run For Your Wife. Mirror says Thornton passed away peacefully this past weekend.
Are You Being Served became a TV classic, one of the British shows to become a huge hit here in the U.S. It's setting in a department store is similar to the ITV series Mr. Selfridge, which premieres here in the U.S. on March 31st and stars Jeremy Piven. Shows like Are You Being Served helped create an American love affair with British TV that has included Monty Python, Fawlty Towers and of course the current hit Downton Abbey, which closed Season 3 here to strong ratings last month.
Frank Thornton leaves behind only one other living main cast member from the show, Nicholas Smith, as well as his wife of 67 years (an amazing feat in show business), a daughter, and three grandchildren. He also leaves behind a television legacy that will be long remembered.
Your Daily Blend of Entertainment News
Thank you for signing up to CinemaBlend. You will receive a verification email shortly.
There was a problem. Please refresh the page and try again.