Disney World Has Added The Mandalorian To Galaxy's Edge. Why That Might Be Bad News For The Galactic Starcruiser
The Mandalorian has arrived at Star Wars: Galaxy's Edge at Walt Disney World.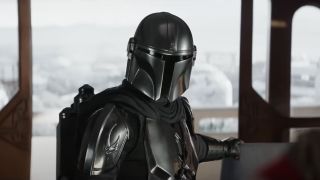 (Image credit: Lucasfilm)
Today's a big day for Star Wars fans as the first episode of Season 3 of The Mandalorian has arrived. And as it turns out, that's not the only new place to find Din Djardin and Grogu today. The duo made their first appearance, completely unannounced, at Star Wars: Galaxy's Edge at Disney's Hollywood Studios. While a cool moment for fans, it raises potential questions about the future of the Star Wars: Galactic Starcruiser.
The Mandalorian has been appearing regularly at the Disneyland Resort version of Star Wars: Galaxy's Edge for months, but there had never been any mention of the character making the jump to Walt Disney World. While we were never given an official reason for this, the belief has been it's all about the Galaxy Edge timeline. While both lands are officially set during the Star Wars sequel trilogy, the Disney World version is seen as less flexible due to the Star Wars: Galactic Starcruiser. We've now seen that timeline flex for the first time. Is this an indication of changes to come for the Starcruiser?
Star Wars: Galaxy's Edge Is Set In The Sequel Trilogy
When Star Wars: Galaxy's Edge was first opened, the land was unique in many ways for a theme park, but one key way that was the case was in how the land was set in time. The events happening on Batuu were designed to occur in the middle of the sequel trilogy of Star Wars, specifically, in between The Last Jedi and The Rise of Skywalker. What happened there was supposed to be, more or less, Star Wars canon.
This was cool when it came to an element of role-playing, where guests could feel like they were part of a Star Wars adventure in a new way, but it was also limiting, as it meant only characters that could exist in that era would appear. Fans hoping to see Darth Vader were out of luck.
That started to change, at Disneyland at least, with the introduction of The Mandalorian and Boba Fett as walk-around characters. The timeline became a bit flexible, with the idea that now you could be standing on Batuu in different eras in time based on which characters were walking around. But Disney World has remained locked into its sequel-era timeline, almost certainly because of the Galactic Starcruiser.
The Star Wars: Galactic Starcruiser Tells A Very Specific Story
The Star Wars (don't call it a hotel) Galactic Starcruiser is a multi-night Star Wars experience that takes the idea that started at Galaxy's Edge to an additional level of immersion. Guests can truly create their own story by interacting with characters and engaging in different activities, and a story unfolds around guests as time passes. But once again, that story is about the First Order commandeering the cruise ship that guests have boarded, and the Resistance trying to fight back.
Starcruiser guests get access to Galaxy's Edge for one day during their stay, and they can engage in unique activities that tie into and impact their Starcruiser story. And for that reason, Galaxy's Edge at Hollywood Studios sort of needs to continue to exist in the sequel trilogy era only. And yet, not only is the Mandalorian walking around today, he's doing it on the day that Starcruiser guests will be visiting.
If the timeline is now allowed to be more flexible at Walt Disney World, then what does that mean for the Galactic Starcruiser? We know that the Starcruiser hasn't been as popular recently as it was when it opened a year ago. Disney has been offering promotional deals to entice people to visit and has even been offering Cast Members substantial discounts. While it's unclear how full the Starcruiser even needs to be in order to be considered successful, there aren't that many rooms available, so not filling them is a significant issue.
Could Changes At Galaxy's Edge Mean Changes For The Galactic Starcruiser?
Could Disney be getting ready to make some sort of change to the Galactic Starcruiser? It may seem like a minor thing to have different eras of Star Wars collide at Galaxy's Edge, but Disney is known for getting the details right. And for those who have decided to spend a lot of money on Galactic Starcruiser, it's going to potentially lose a lot of magic when guests move to Batuu and find themselves standing face to face with characters that aren't part of their story.
The Galactic Starcrusier certainly isn't going anywhere, not anytime soon, and to be fair changes to it shouldn't be surprising. What Walt Disney Imagineering did here was unprecedented, and there was no way to know it would work the first time out. It's clear that those that get the most out of the Starcruiser are those that are getting involved and engaged with the story and the characters. And any story like that needs to exist at a fixed point in time. It doesn't have to be the sequel trilogy, but you can't do what Starcruiser does without setting your story in time.
It's possible that The Mandalorian's appearance here is not going to be a regular thing the way it is at Disneyland. This could simply be a move to promote the new season, and Mando could be gone forever tomorrow. But if this is the beginning of something new for Galaxy's Edge, that could also mean something new for the Starcruiser. New doesn't mean bad, but for those fans that like what Starcruiser is, who wanted to experience their own Start Wars adventure in that way, this change is potentially bad news.
Both Star Wars: Galaxy's Edge and the Galactic Starcruiser will change over time. Themed entertainment changes and evolves, it's part of the deal. If The Mandalorian is part of the regular cast of characters that Disney World guests will meet going forward, that's great for them. And if the Galactic Starcruiser really is struggling to find its niche, that's ok too. Hopefully, if this is a sign of a big change to come, whatever Imagineering has come up with will be even more impressive.
Your Daily Blend of Entertainment News
Content Producer/Theme Park Beat
CinemaBlend's resident theme park junkie and amateur Disney historian. Armchair Imagineer. Epcot Stan. Future Club 33 Member.