The Mandalorian Season 3: 6 Quick Things We Know About The Star Wars Series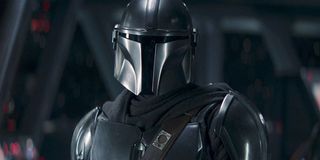 CinemaBlend participates in affiliate programs with various companies. We may earn a commission when you click on or make purchases via links.
Just when you thought you could not miss the adventures of Pedro Pascal's galactic bounty hunter and his adoptive son (widely known as Baby Yoda) any more, The Mandalorian Season 2 receives a whopping 24 nominations for the 2021 Emmy Awards. This reminder of why the sci-fi/western series from creator Jon Favreau has become such a beloved cultural phenomenon is just enough to make anticipation for the upcoming Star Wars spin-off's return stronger than the Force itself. Well, of the following things that we can confirm at this time about The Mandalorian Season 3, I am afraid that when you will able to stream it on Disney+ is not one of them.
The Mandalorian Season 3 Does Not Have A Set Disney+ Premiere Date
Shortly after the December 2020 release of the bittersweet Mandalorian Season 2 finale (which also featured one explosive cameo by Mark Hamill as a Return of the Jedi-era Luke Skywalker) showrunner Jon Favreau confirmed that another season was currently in pre-production. Of course, this would immediately propel many questions about The Mandalorian Season 3, such as whether or not we have seen the last of Baby Yoda, if the series' main story will continue or be replaced with Boba Fett's next set of adventures (more on that later), and, especially, when Chapter 17 will hit Disney+? Not only are we unable to confidently report on that information (although some speculate a late 2022 release), but we are not even sure when the cameras are supposed to start rolling.
The Mandalorian Season 3 Production Has Reportedly Not Started Yet
Despite receiving the greenlight pretty quickly, The Mandalorian Season 3 has an unspecified amount of time before it begins principal photography (which could either happen in late 2021 or early 2022), and for a couple of valid reasons. According to Collider, the upcoming Obi-Wan Kenobi Disney+ show (starring Ewan McGregor as the titular Jedi Knight following the events of Star Wars: Episode III - Revenge of the Sith) is currently being shot on the same high-tech set on which the new season plans to film, which is a large-scale virtual film stage developed by Industrial Light and Magic called "The Volume." Plus, the star of The Mandalorian is also going to be a little busy this year playing another gritty, adoptive father figure on HBO's series adaptation of The Last of Us video games.
Pedro Pascal Will Return To The Title Role Of The Mandalorian Season 3
Despite his aforementioned commitment to the role of hardened zombie apocalypse survivor Joel on HBO's The Last of Us, we can also say that we have still not seen the last of Pedro Pascal as Din Djarin. In fact, the former Game of Thrones cast member is the only actor confirmed to appear on the Mandalorian Season 3 cast, with no word on if fan favorites like Emmy nominee Timothy Olyphant as Cobb Vanth, recurring star Carl Weathers as Green Karga, or comic relief Amy Sedaris could appear - not to mention the hope some still have for return of Baby Yoda. While we can be sure that Gina Carano will not be returning as Cara Dune, we can more confidently infer that Katee Sackhoff's Bo-Katan Kryze and Giancarlo Esposito as the ruthless Moff Gideon will have crucial roles on the new season.
The Book Of Boba Fett Is Coming Before The Mandalorian Season 3
It seems less likely, however, that Temuera Morrison (who once played Jango Fett in 2002's Star Wars: Episode II - Attack of the Clones) will reprise Boba Fett on The Mandalorian anytime soon, even though the Season 2 finale's post-credit scene had some convinced he would be the focus of the show going forward. As Jon Favreau would later confirm, the clip was actually meant to tease a new series called The Book of Boba Fett, which will also see Ming-Na Wen once again play Fennec Shand - trusted partner of the Star Wars movies' beloved bounty hunter character. The spin-off has already wrapped filming as of June 2021 and is set to premiere ahead of The Mandalorian Season 3 on Disney+ in December 2021.
Another Mandalorian Spin-Off Is Currently In The Works
The Mandalorian Season 2 saw the live action debut of a few popular Star Wars characters known primary from animated series like Star Wars: The Clone Wars or other installments of the expanded universe in other mediums, such as the aforementioned Bo-Katan Kryze (played by her original voice actress) and Jedi Ahsoka Tano, who will be played again by Rosario Dawson in her own self-titled spin-off. Currently, Ahsoka has no set Disney+ premiere date or production date scheduled, but its development status is up and running with Jon Favreau and Dave Filoni executive producing. We cannot say the same, however, about Rangers of the New Republic, Cara Dune's proposed spin-off which has reportedly been shelved since Gina Carano's exit.
A Behind-The-Scenes Look At The Mandalorian Season 2 Finale Is Hitting Disney+ In August
While the forced separation of Gina Carano from LucasFilm was undoubtedly one of the most talked about behind-the-scenes events surrounding The Mandalorian in the past year, I am sure there are other things that what went down on the set fans would love to learn about. For instance, they can get a deeper look at what went into the making of that epic Season 2 finale in an upcoming new episode of the documentary series Disney Gallery / Star Wars: The Mandalorian. The exclusive scoop on how a young Luke Skywalker was brought back to life and more will be available to stream on Disney+ Wednesday, August 25, 2021.
Now, that we have gone through everything that we know about The Mandalorian Season 3 and more tangentially related topics, we are, unsurprisingly, still left with so many burning questions, such as who will be directing the next set of episodes, what new cameos can we expect, and, again, when the hell are they going to bring back Baby Yoda. Search your feelings and know it to be true that all we can do is wait until those mysteries are solved. That is the way.