Bambi Returns From The Forest On Blu-Ray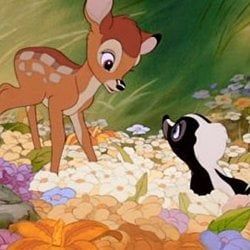 It's been a lengthy or scant time (depending on perspective) since Disney re-vaulted copies of Bambi nearly four years ago. Luckily, it's going to be brought back out of the vault on March 1st, 2011, in full Blu-Ray force. The Blu-Ray Diamond Edition of the film will feature the now-Disney standard Blu-Ray/DVD/Digital Disc combination. Special features will include: two never before released deleted scenes, a deleted song, an image gallery, some family games, a digital exclusive called "The Golden Age," and the "classic" DVD bonus features ("The Making of Bambi" feature, footage from the Disneyland TV show, an "Inside the Archives Feature," "Disneypedia," and the celebrated movie short "The Old Mill"). The disc will also be implementing new technology, called Second Screen, that will enable viewers to engage with the film on multiple media platforms. This basically means you will download an app on a device that has internet capabilities and synch the program with the film and then you can do some cool stuff with it.
It may seem weird that Disney would release a new Bambi DVD when there are still copies of the 2005-2007 release running around (on Amazon, etc.). The reasoning for another release, I would guess, has to do with the fact that Disney has been pretty liberal with pulling films out of the vault over the last couple of years, presumably to get Blu-Ray editions onto the market. Bambi is coming out sort of late in the game for one of their classic films, but I would guess this has something to do with the fact that its last release was so recent.
Be aware that if you aren't an elite member of society with a Blu-Ray player, you won't be able to buy the DVD copy until April 19th, 2011. I propose a riot at the Disney Home Entertainment Studios in Burbank California. Just kidding, but you will have to wait the extra seven weeks for the DVD release.
Your Daily Blend of Entertainment News
Thank you for signing up to CinemaBlend. You will receive a verification email shortly.
There was a problem. Please refresh the page and try again.