Biggie's Legacy Lives On Through DVD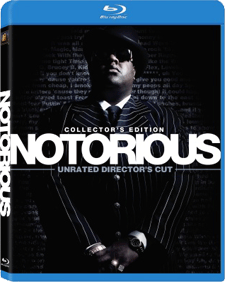 Tupac Shakur's biopic may have hit some bumps in the road to the big screen; but at least you'll be able to enjoy Notorious as much as you want in the meantime. Twentieth Century Fox Home Entertainment will bring you the story of Biggie Smalls on DVD and Blu-ray April 21st.
From Catholic school honor student to an iconic MC, Christopher "Biggie Smalls" Wallace's (Jamal Woolard) journey to fame was nothing less than remarkable. The film touches on his childhood growing up in Brooklyn where he was sucked into the world of drug dealing when the crack epidemic was at its peak. This hobby sends his life into a downward spiral, his mother (Angela Bassett) kicks him out of the house and he eventually winds up in jail. Biggie's life changes when he meets Sean Combs (Derek Luke) and is signed to Bad Boy Records. The film goes on to show the details of the relationship between B.I.G., Faith Evans (Antonique Smith) and Tupac Shakur (Anthony Mackie) and concludes with the rapper's tragic death.
This DVD will appeal to the true B.I.G. fans, just as the theatrical release did. It's those that loved his music that went out to see the film and those same people will be purchasing it to watch at home, and they won't be disappointed. The Unrated Director's Cut Collector's Edition on Blu-ray and DVD not only comes with the Unrated Extended Cut of the film, but a slew of bonus material as well. There's behind-the-scenes footage, deleted scenes, footage of the real B.I.G., filmmaker commentaries and a digital copy of the film. Specific to the Blu-ray edition will be "The Music" interactive BD-live feature and "Life After Death: Making Notorious" BonusVIEW feature.
If you can't spend the $39.98 on the Blu-ray special edition or the $34.98 on the DVD one, there will also be a single disc version sans bonus material for $29.98.
Staff Writer for CinemaBlend.
Your Daily Blend of Entertainment News
Thank you for signing up to CinemaBlend. You will receive a verification email shortly.
There was a problem. Please refresh the page and try again.