Christina Ricci Gets A Mouthful Of Maggots In This After.Life Clip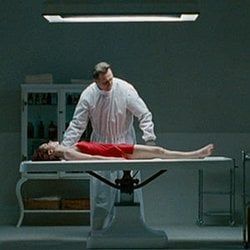 It's rarely a good sign when a little-seen movie gets promoted as hard as After.Life is, but who knows, maybe there's a solid little rental in here. We've already posted the DVD specs and the trailer, and today we've got a clip from the film itself.
Unsurprisingly, I'm a little tired of summarizing the movie at this point, but I'll suck it up and give it one more go: Anna (Christina Ricci) is in car accident and may or may not be dead. The creepy funeral director (Liam Neeson) she meets upon waking insists that she is, and that she needs to make peace with that fact so she can move on to, well, whatever. Both Anna and her boyfriend (Justin Long), however, suspect the rumors of her demise may have been exaggerated, and that the funeral director may be up to no good.
This new clip below doesn't provide much context, since it's focused more on just being creepy and evocative. Whether it succeeds on that front will depend on how unnerved your are by chanting, cataract-ridden old women. Here's a look at After.Life, out on Blu-ray and DVD August 3rd.
Your Daily Blend of Entertainment News